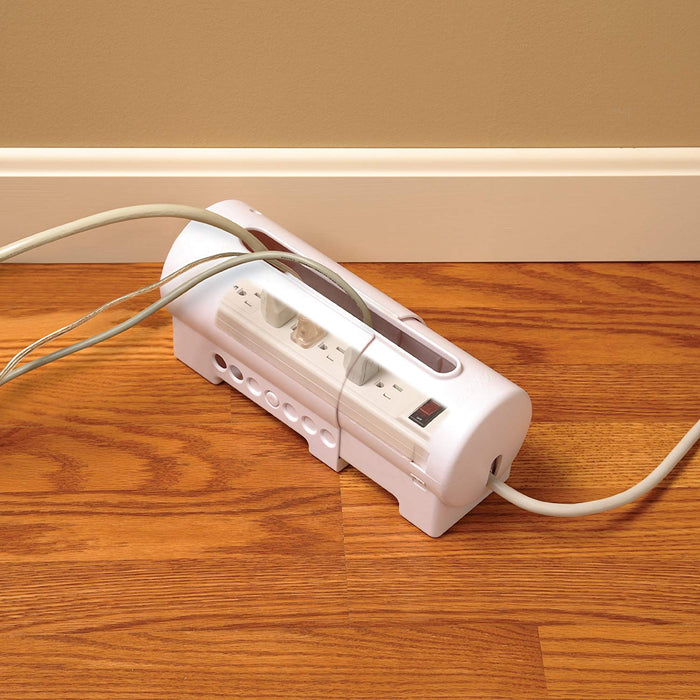 Safety 1st Power Strip Cover
Help keep your curious child from exploring power strip outlets with a Safety 1st Power Strip Cover from Child Safety Store. Don't wait for your baby to start crawling. Childproof your home today and decrease the risk of potential shock hazards!
Parents, let's face it. Children are curious and your house, including all electrical outlets, can expose them to dangers if not protected properly. With a Safety 1st power strip cover, you can rest assured that children can explore your home without being able to pull on the cords, play with power strips, or poke or prod anything into the slots of your home's many electrical outlets.

Product Highlights
Easily adjusts to enclose a full power strip securely
Keeps outlets covered, on/off switch and plugs preventing them from being pulled out
Can be wall mounted or used on the floor in any room
Expandable design fits power strips up to 13.5 inches in length
Ideal for home offices, telephones and nurseries, or anywhere else you spend time with your child
This kit includes one power strip cover
Instructions: Press side tabs to slide it open and insert your power strip inside the inner cover. Plug in your appliances, and replace the cover – the cords extend from the top. Remove the cover to clean, wiping it with a damp cloth and allowing it to dry.
Product Specifications
Brand: Safety 1st
Type: Baby/Child Safety Power Strip Cover
Material Type: Plastic
Material Composition: Lead-Free
Color: White
Age Group: All Ages
*This product is not a substitute for adult supervision.
Child Safety Store is your go-to resource for tools to turning your hazardous home into a safe haven for toddlers and babies. Childproof your home and decrease the risk of potential shock hazards with Safety 1st Power Strip Cover. Shop now at ChildSafetyStore.com!