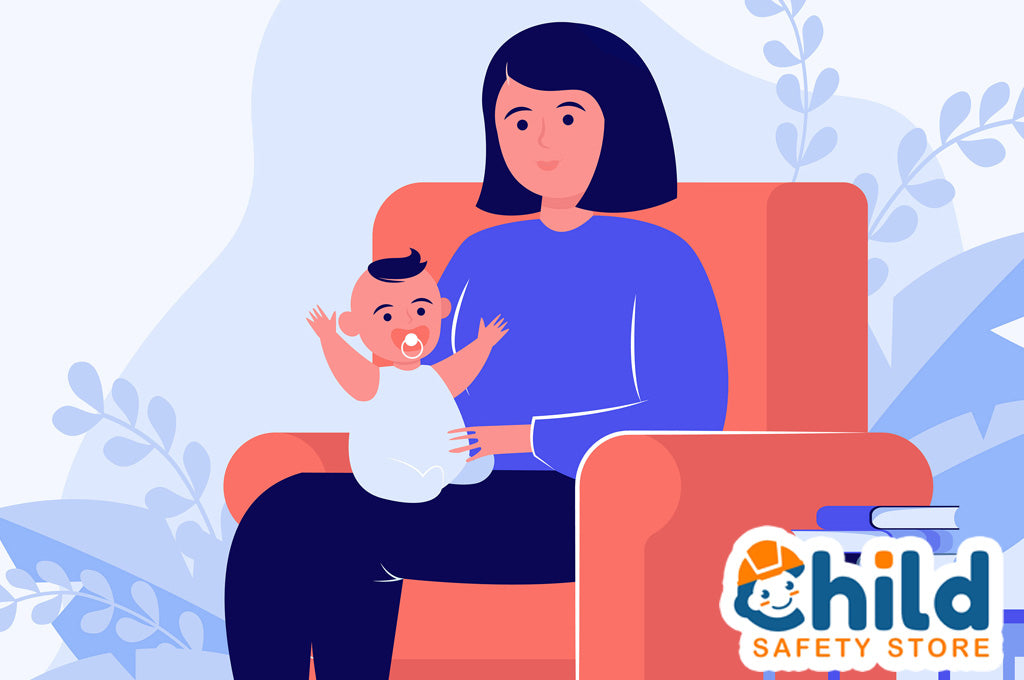 Keeping Little Ones Safe During Baby Safety Month
At Child Safety Store, we always focus on keeping little ones safe. Over the years, our blog has dedicated many posts to safety topics, such as properly baby-proofing your home. When it comes to kids, they are curious and reckless. It's up to adults to prevent them from injuring themselves. September is a special month because it is also Baby Safety Month. We take this topic very seriously!
Baby Safety Month is sponsored annually by the Juvenile Products Manufacturers Association (JPMA). For 2020, the goal is to educate parents and caregivers on how to choose the safest products for their babies. That's a topic that's very close to our hearts, since we often alert parents to important product recalls and offer several safety guides. Just last month, we warned parents about a recall for children's helmets.
Join us for a look at some critical safety tips that parents should follow throughout Baby Safety Month and continue throughout the year.
Baby Safety Month Starts with Stroller Safety
If you're going to be taking your child out and about, you'll probably need a stroller. Unfortunately, you'll need to be extra careful when choosing one. According to a 2016 survey published in Academic Pediatrics, an average of 17,000 children are hurt every year from strollers and baby carriers. Roughly two-thirds of these kids were injured when they fell out of the devices. During 2020, there have already been four high-profile stroller product recalls. 
With so many choices on the market, it's important for parents and caregivers to have the facts before making a purchase. Be sure to choose a well-reviewed stroller that meets all of the necessary safety specifications. Additionally, don't neglect the instruction manual. Knowing how to properly use the device is the major goal of Baby Safety Month. To learn more about stroller safety, take a look at our detailed blog post.
Inclined Sleepers and Baby Safety
Besides strollers, you're going to want a safe sleep environment for your baby. This brings us to the difficult discussion of inclined sleepers. These devices are very popular for caregivers and in nurseries. However, they've been a topic of a lot of controversy in recent years. There have been several high profile recalls of inclined sleepers. Due to a risk of accidental strangulation, Fisher-Price recalled 4.7 million sleepers at the end of 2018. Following that decision, four other brands also voluntarily recalled their sleepers.
Most of these strangulation incidents were largely due to incorrect usage. In a case like this, the baby is often not strapped in properly and then slips, which can prevent them from being able to breathe. Sadly, this can lead to tragedy. To learn more about the potential dangers of inclined sleepers, we wrote a full blog post about the issue.
Above all, take this time during Baby Safety Month to evaluate your child's sleeping conditions. The absolute safest sleep environment includes a firm mattress without any bumpers, blankets or toys. This may fly in the face of traditional wisdom, but it's crucial to remember how little control babies have over their bodies. Anything in their cribs or bassinets can become a potential suffocation hazard.
Avoiding Irritation
Now that travel and sleep have been handled, let's talk about diapers and detergents. Compared to adults, babies have extremely sensitive skin. This limits what products you should use on your baby's body. Any wipes, diapers and ointment should be carefully chosen. Parents and caregivers should pay extra attention when using a new brand of product. If any irritation or rash is caused, discontinue use immediately.
Speaking of rashes, diaper rash can be very painful and is far too common for little ones. Diapers should be changed frequently so that waste doesn't press against the baby's skin for long periods of time. Instead of baby powder, using a zinc oxide-based ointment is recommended for dealing with diaper rash.
Additionally, consider washing new clothing before putting them on your baby. There may be unseen irritants from the store that can cause irritation. Just be sure to use a detergent that is designed for sensitive skin.
Scratching Safety
Finally, let's talk about your baby's razor sharp nails. For new parents, this can definitely be cause lots of scratches, both for you and your little ones. At such a tender age, babies cannot control their arms. That's where scratch mittens can help. For parents who choose to use these soft mittens, they can help cover those claws to prevent the child from accidental self-harm.