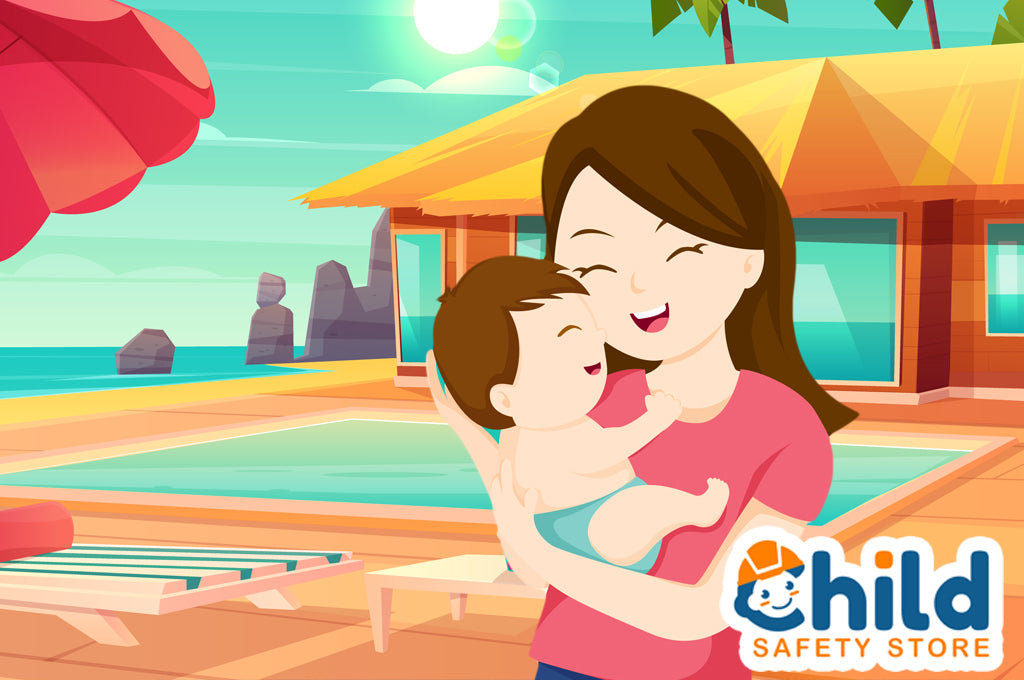 When Can I Bring My Baby in the Pool?
Everyone is enjoying the pool this time of year, so parents of young children may find themselves wondering when they can bring their baby in the pool. Babies get used to the water during bath time – however, your inability to completely control the water's temperature makes the pool trickier… and riskier. Beyond two months old, parents can bring their babies into the pool as long as it's under the right conditions. 
Regulating Temperatures for a Baby in the Pool
Swimming can be a great way to beat the summer heat, It is best to wait until your baby is at least two months old before bringing them into the pool. This is because babies, especially those younger than six months old, can't regulate their temperature as well as us adults can. If you bring a little one into the water who is younger than six months, be sure you can regulate the temperature so that it is warm – around 89 degrees Fahrenheit. For this reason, a public pool may not be your best option.
Teach Survival Skills Early
Children should be taught water survival skills even at a young age. Infant Swimming Resource is a type of swimming lesson that gives specialized one-on-one attention to children from six months to six years old. The lessons teach the child to survive in the water in case of an accident. They will learn to hold their breath under water, roll onto their back to float, rest and breathe without panicking, and more.
Keep An Eye on Kiddie Pools
Kiddie pools are a great option, but when your child is in one, safety shouldn't be ignored. Most parents don't realize that these inflatable pools can be just as dangerous as an adult pool. In fact, drowning can occur in less than two inches of water, so kiddie pool swimmers should be supervised just as carefully.
Use Swim Diapers
Not so fast – before jumping into your swimsuit, check on the regulations of your public pool beforehand.  Most have requirements related to infant swim diapers. As we all know, regular diapers sag when they're wet. Swim diapers are made to withstand water and prevent your child from being weighed down by a swollen diaper. This also helps to avoid the spread of bacteria, which would contaminate the water. 
Don't Use Floaties
Floaties, or water wings, are not ideal floatation devices, especially for children who don't yet know how to swim. These inflatable objects allow children to play freely in the water. However, that is also the problem. Floaties can make parents think their kids are safer than they are. Seeing their children floating safely in the water may cause them to get distracted more easily. However, floaties can pop, causing a severe drowning hazard. Your best (and safest) bet is to buy a U.S. Coast Guard-approved life jacket instead.
Apply Sunscreen Regularly
Don't forget sunscreen, even when you're in the water! Even in the pool, you're still exposed to the sun. In fact, it only takes a few minutes for the sun's ultraviolet rays to cause skin damage. Sun safety is especially important for babies. Being exposed to these rays during the peak hours of 10am-2pm makes it even more likely that you or your child will burn. If your child is under six months old, sunscreen is not recommended. In this case, keep the infant out of the sun as much as possible to protect their sensitive skin.