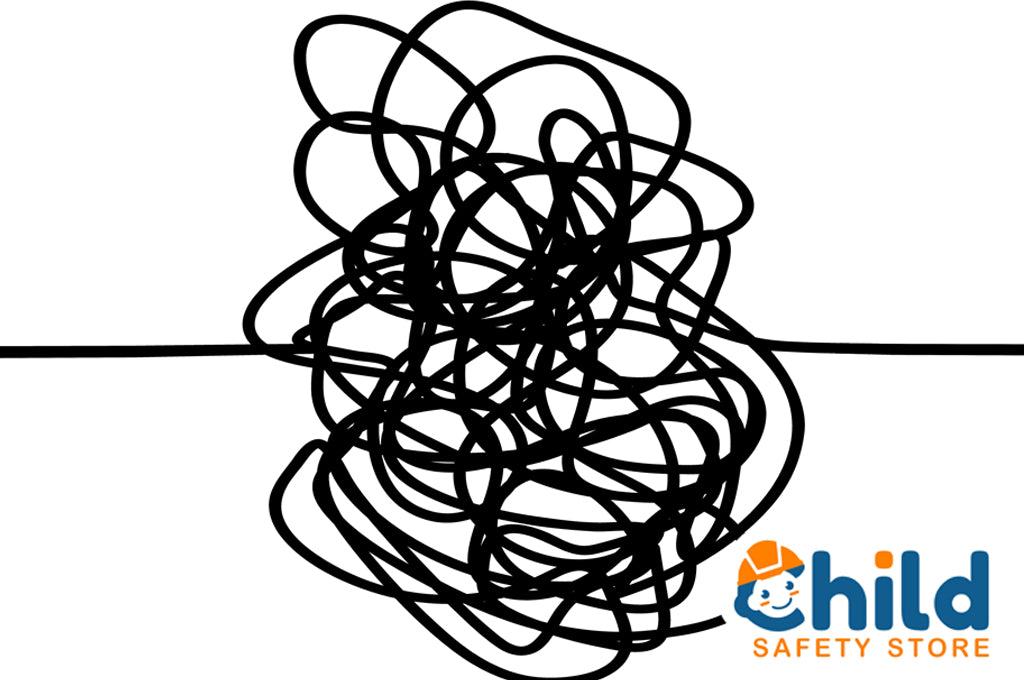 Strangulation Safety: Tangled Cords and Kids
When it comes to child safety, there are so many ways for kids to fall into harm's way. One of the scariest risks is strangulation. Between hanging window cords and tangled extension wires, strangulation safety should be a top concern in every home. 
Strangulation Safety: Knowing the Risks
Each year, far too many children are either killed or injured due to unintentional choking or strangulation. According to SafeKidsUSA, nearly 2,000 children under the age of fifteen died in 2009 due to unintentional choking/strangulation. Of these deaths, 94% of the victims were under the age of five. 
Additionally, this blog frequently highlights past product recalls from the Consumer Product Safety Commission. Many of these recalls are often due to potential choking or strangulation accidents. This isn't meant to simply scare concerned parents, but instead stresses the importance of thinking about child strangulation safety.
Cords and Wires
When it comes to strangulation safety, one of the primary culprits can be loose or tangled cords. These cords include, but aren't limited to, cords that are plugged into wall outlets or devices. They can also be hanging from window blinds. 
The Danger of Window Blind Cords
Many adults know to keep loose cords off the floor, but there is one spot they may overlook. It is sitting a bit higher on the wall. Many windows have a cord hanging down from the blinds.
Often, these cords are deceptively long. They can even be tangled and messy. Besides looking unsightly, these lengthy cords are a major risk to strangulation safety. According to a recent Pediatrics study, between 1990 and 2015 more than 16,800 kids were injured and brought to the emergency room due to blind cords. Even worse, 255 children died during this same time period after getting tangled in the cords.
When it comes to baby-proofing a home, blind cords may not seem like a big deal, but they can be quite deadly. If you are installing a new set of blinds, keep suffocation safety in mind. Choose blinds with the Window Covering Safety Council's Best for Kids™ certification. 
For existing blinds, consider adding Safety 1st Window Blind Cord Wind-Ups to your windows. These are designed to keep hanging blind cords out of reach of kids. They work by simply snapping the small circular plastic unit to the cord and winding the rest of the cord up.
Tangled Electrical Cords and More
Beyond focusing on the blinds, let's get down to the ground. In today's highly technological world, it is very common to have electrical cords running all over the floors and up the walls. This is a major safety risk for kids. Besides the possibility of electrocution, these loose cables can become wrapped around a child or baby's neck. 
Unfortunately, suffocation and choking are often quite silent. It is very possible for a parent or guardian to be mere feet away from the victim and never notice the danger until it is too late. To this end, all wires should be properly secured.
To aid in strangulation safety, use a product that can keep your cords short and protected. Keep them as far from sight as possible. After all, out of sight is out of mind.
For more information, watch this helpful video about the Safety 1st Outlet Cover with Cord Shortener.