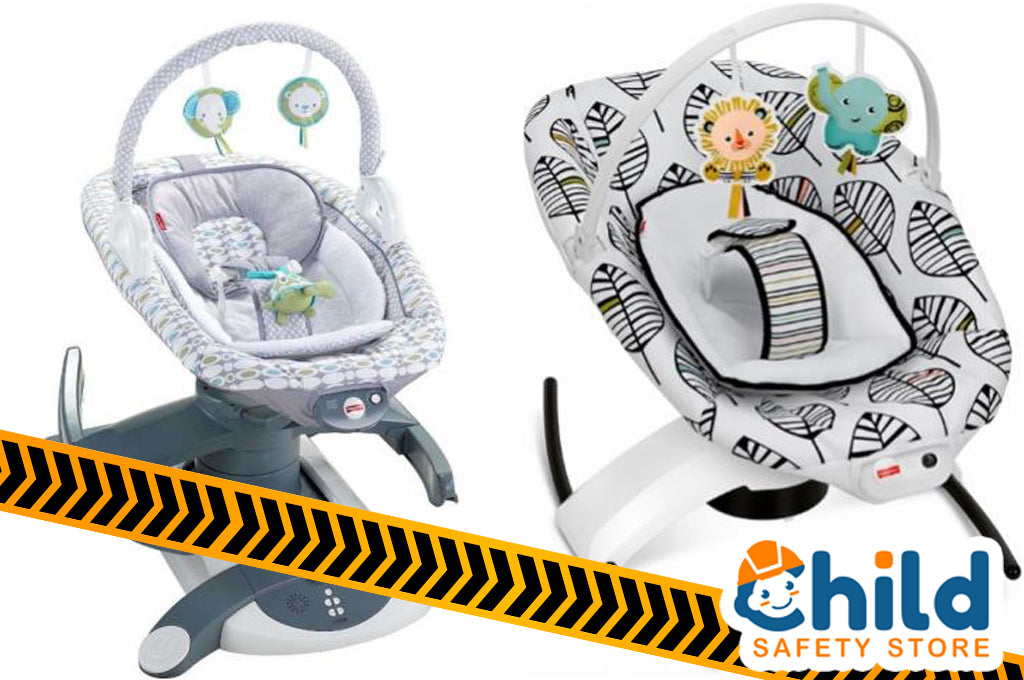 Recall Alert: Popular Baby Rockers Recalled Following Reports of Four Deaths
Once again the Fisher-Price Rock and Play sleepers is in the news. At Child Safety Store, we've been covering this story for quite a few months. This time, Mattel and Fisher-Price are issuing a full recall after learning about four infant deaths.
Both the "4-in-1 Rock 'n Glide Soothers" and "2-in-1 Soothe 'n Play Gliders" will be recalled. We should note, there were not any fatalities related to the 2-in-1 Soothe 'n Play Glider. Read on to learn more.
Why Are These Baby Rockers Being Recalled?
First, we'd be remiss if we didn't bring up the past issues with these popular baby rockers. As we've written in the past, the initial deaths from the rockers seemed to stem from improper use of the product. There was a bit of confusion as to the actual cause and blame about the injuries.
In general, when an infant is placed in the soother or glider without being properly secured with the product's restraints, danger may occur. In these situations, there is a chance that the child can be thrown from the product or strangled. This was the case in the earlier articles we wrote about recall alerts for products like these.
As for the current recall, the popular baby rockers were linked to the deaths of four infants. Following this, Fisher-Price and Mattel voluntarily issued a recall notice for its 4-in-1 Rock 'n Glide soothers and 2-in-1 Soothe 'n Play gliders. 
Here's Part of the Official Statement from the U.S. Consumer Product Safety Commission (CPSC) and Fisher-Price:
There have been reports of four infant deaths in the 4-in-1 Rock 'n Glide Soother.  The infants were reportedly placed on their backs unrestrained in the product and later found on their stomachs.  These incidents occurred between April 2019 and February 2020. The fatalities were a 4-month old from Missouri, a 2-month old from Nevada, a 2-month old from Michigan and an 11-week old from Colorado.  There have been no fatalities in the 2-in-1 Soothe 'n Play Gliders.
This recall affects the following models:
CHP56, CHP55 and CBT81 4-in-1 Rock 'n Glide Soothers. 
Additionally, it also involves the GDD28, GDD39, GDD41, GGW85, GNX43, GVG43, HBD26 and HBD27 of the 2-in-1 Soothe 'n Play Gliders.  (HBT17 is sold in Canada only.)
The model number is located on the underside of the base.
Photos of the Recalled Products
Name of Products:
Fisher-Price 4-in-1 Rock 'n Glide Soothers and 2-in-1 Soothe 'n Play Gliders
Hazard:
Infants who are placed unrestrained in the product and later found on their stomach are at risk of suffocation.
Remedy:
Refund
Recall Date:
June 3, 2021
Consumer Contact:
Fisher-Price online at 
www.service.mattel.com
, and click on "Recall & Safety Alerts," or toll-free at 855-853-6224 from 9 a.m. to 6 p.m. ET Monday through Friday for more information.
You can check the official CPSC page for further information.
Inclined Rockers and New Safety Standards
Earlier in 2021, the CPSC issued a statement supporting a long held opinion of the American Academy of Pediatrics. The proposal intended to remove inclined infant sleeper products from the market. The proposal would also issue a new safety standard that does not allow for an incline greater than ten degrees, after a study showed a possibility of danger. Essentially, the incline on these sleepers makes it easier for babies to roll over. In many cases, such as the deaths and injuries mentioned from this recall, this can result in the baby suffocating.
Inclined Sleepers Still Being Used at Many Daycare Centers
With this new information, it is crucial for parents to be aware of the products being used in preschools and daycare centers. A recent report indicates that the Fisher-Price Rock 'n Play is still being used in many daycare centers. 
Knowing about the potential dangers could save a child's life, so it is important for parents to ask questions. Keep an eye on the Child Safety Store blog for important updates and news about potential hazards and recalls. 
Additionally, share these posts with your friends and family. Spreading the word can help to avoid unnecessary risks or even tragedies