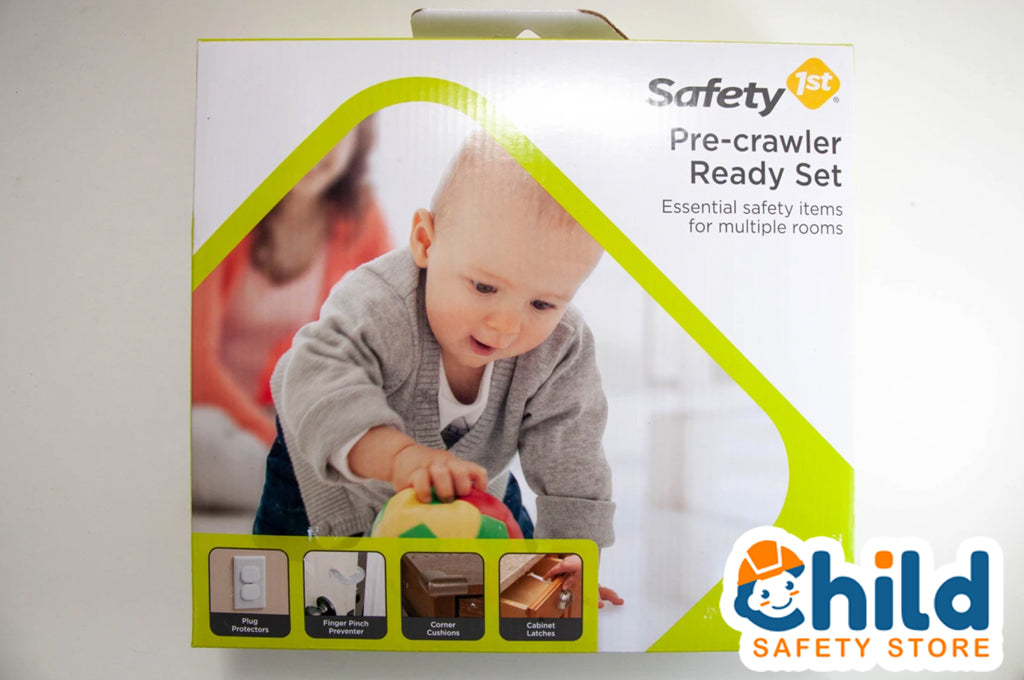 Product Spotlight: Safety 1st Pre-Crawler Ready Set
It's a big wide world out there… especially for an infant. Your baby may be small, but boy are they curious and energetic!  Once they begin crawling, they can cover more ground that you may expect. (Of course, once they start walking – that's a whole other ballgame!)
As parents, you'll want to encourage those inquisitive little minds. However, you also want to make sure your little one has a safe environment to crawl, toddle and explore. 
To this end, today we'll focus on one of the best selling products from the website, the Safety 1st Pre-Crawler Ready Set.
Baby-Proof Earlier Than You Think
For some parents, it isn't until there is an unfortunate injury that they realize that it's time to baby proof their home. Ideally, you'll want to protect your home before there's a chance of that first injury to occur.
With that in mind, look around your home and take note of any sharp corners, open cabinets or potential hazards.  In fact, you may consider hiring a professional to assess your home and help you to determine where you need what areas you need to safeguard.
Safety 1st Pre-Crawler Ready Set
There's no better time to get started than today. At Child Safety Store, we try to provide you with everything you need to keep your family safe.  One helpful item for first-time parents is the Safety 1st Pre-Crawler Ready Set. It's true, baby-proofing your home can seem daunting. Luckily, this 35-piece set comes with all of the basics needed to protect your little adventurer from getting hurt.
This kit comes with 20 Plug Protectors, 1 Finger Pinch Preventer, 4 Corner Cushions, and 10 Cabinet Latches. This may sound overwhelming, but the only tool needed to get everything set up is a Philips Head screwdriver.
What's Included?
Let's take a look at each of these items individually to better understand how they can be helpful.
Plug Protectors:
It's heartwarming to watch your child discover the world as they crawl across the room. However, outlets are one thing we don't want them to discover! Unfortunately, most are situated right around your baby's eye level as they crawl. Luckily, clear safety plugs protectors can be inserted into unused outlets, easily helping to protect your curious child from electrical shock.
Finger Pinch Preventer:
This soft foam form can be placed on your door, preventing the door from fully closing. In turn, it also prevents little fingers from getting pinched between the door and its frame.
Corner Cushions:
Reduce the number of bumps and bruises with a simple stick-on cushion that protects your little one from sharp and pointy corners. It's simple: adhere these protectors to furniture items such as coffee tables, end tables, countertops, desks, and more.
Cabinet Latches:
As we've discussed in past blog posts, cabinet safety is a critical addition in your baby proofing checklist.  Of course, the last thing a parent wants is for their infant to access products that have chemicals or medication bottles. The best way to avoid this is to keep these items up high. But, you'll still want to keep your little one away from off-limit areas. These easy-to-install latches make it difficult for them, but easy for you, to access these areas of your home.
Adult Supervision is Essential
As you now know, baby-proofing your home is an important step for any parent. However, these items are not a substitute for active supervision. Kids are clever, curious and adventurous.  The very best way to keep them out of trouble is to keep an eye on them without any distractions.  That means it's time to put down the phone, stop checking email, and zero in on watching your little one discover the world.