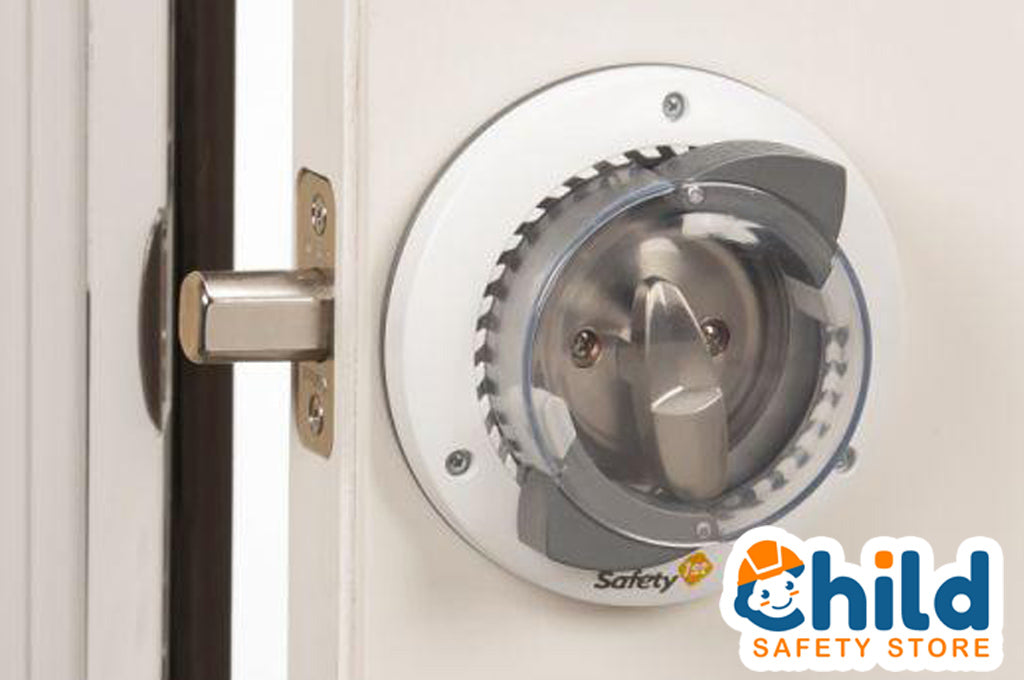 Product Spotlight: Safety 1st No-Drill Deadbolt Lock
Kids and doors are a dangerous mix. Children love to explore, but what lies behind a door can be quite dangerous. We've written about ways of baby proofing doors before, but today let's talk about deadbolts. Specifically, we're going to take a closer look at the Safety 1st No-Drill Deadbolt Lock.
Door Safety 101 
Before we look into deadbolts, let's talk about general door safety. As most parents of young children know, doors can be deceptively hazardous. After all, curious children love to play with them… and even worse, fly out the room through an open door the moment your back is turned.
These giant doors are mysterious portals for kids, blocking them from "who knows what" fun. As adults, we often close doors to prevent children from a potential hazard, such as stairs, a room with dangerous cleaning supplies, or even the outdoors. However, children don't necessarily have the same insight. In fact, a surprising amount of children sneak out the front door, often while their guardian thinks they are safely in the home. The outside world offers plenty of additional hazards, including drowning danger.
Armor for Door Knobs 
Since the danger is so prevalent, it pays to be prepared. In the past, we've written about child safety door knob covers. These handy devices slip over a door's knob or lever, providing an extra layer of protection. Little hands will not be able to access the doorknob, but it still remains completely accessible to adults.  
We highly recommend that all parents install child safety door knob covers on every door in their home. These low-cost safety measures can mean the difference between life and death for a curious child.
Beyond the Knob: Deadbolt Safety
To take this a step further, let's talk about deadbolt locks. A deadbolt is a great way to secure your door. Specifically, this works for doors leading outside. Of course, while it is hard to get passed a deadbolt from outside, on the inside it is a different story. It is very easy to simply pull the switch, deactivating the deadbolt lock.
For an extra layer of protection, there should be an extra safety feature. To this end, we are happy to focus on the Safety 1st No-Drill Deadbolt Lock. 
Product Spotlight: Safety 1st No-Drill Deadbolt Lock
With the Safety 1st No-Drill Deadbolt Lock, you can easily prevent your child from opening any exterior door. This door lock can be easily installed, does not require any drilling or adhesives, and leaves your door with no damage after it has been removed. It can be easily installed in just three steps, making it easy for parents to secure doors with deadbolt locks.
The dual-action locking system is intuitive for parents to use, but not for children to navigate through. Plus, just a quick glance at clear panel will let you know whether your door is locked or not.
Product Highlights:
Helps restrict access to out-of-bound areas
Installs behind existing hardware – no sticky adhesive required
No drilling required
No permanent damage to the door
Dual-action system is intuitive for parents, not for children
Quick glance at clear panel confirms door is locked
Fits most door locks
To learn more, visit the official Child Safety Store page for this product.