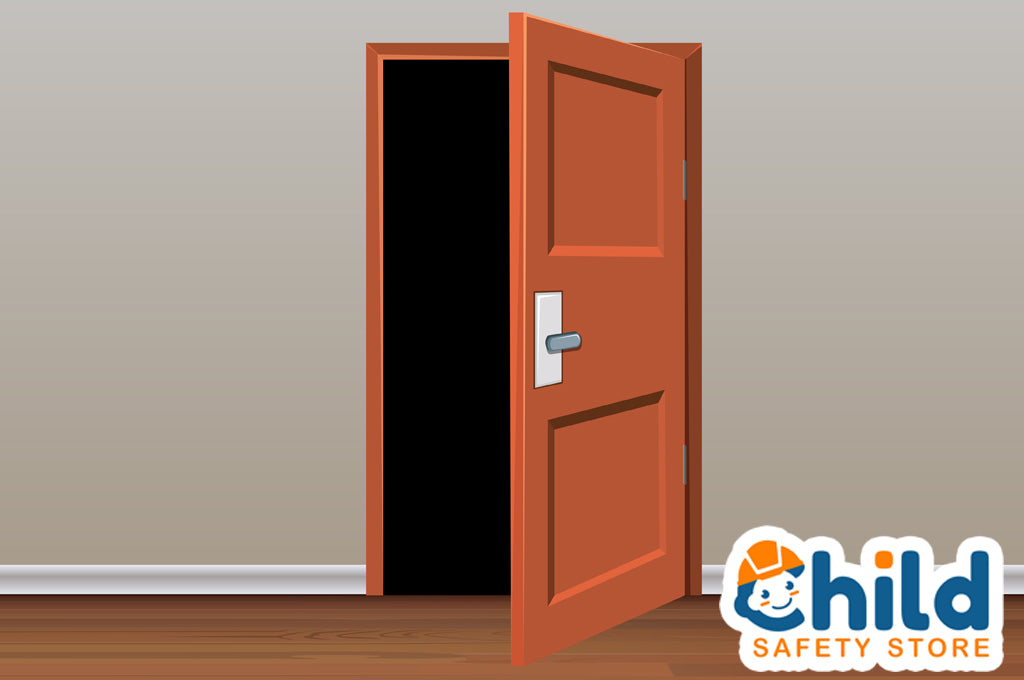 Guide to Baby-Proofing Doors
Doors can cause a surprising amount of trouble. After all, curious little ones love to play with them. When you think about it, to a very young child, these giant portals are often closed to them, blocking them from wild new adventures. But doors can lead to all sorts of injuries as well. In today's post, let's talk about baby-proofing doors for maximum safety.
Why Worry About Baby-Proofing Doors?
First and foremost, you never want a toddler to have access to a door that leads outside or downstairs. For one, a surprising number of child drowning deaths occur while adults believed the child to be safely in the home. For this reason, it's important to keep these doors locked up tight.
Beyond the danger of the outside world, there is also a risk of a child's fingers being pinched or crushed in a door that isn't properly secured. These may not be life-threatening injuries, but they can be extremely painful. Not only that, but if the open door leads to a kitchen or bathroom, the child could end up accessing cabinets that may contain chemicals or medications.   
Fortunately, when it comes to baby-proofing doors, there are solutions available for both of these problems.
Door Knob Covers
Now, above all, active adult supervision will always be the best remedy against injuries. When it comes to safety, nothing beats the watchful eyes of a concerned adult. However, no one can stay fully vigilant 24 hours a day. For baby-proofing doors, this is where safety door knob covers come in handy. These handy devices slip over the door knobs or levers, providing an extra layer of protection.
The way they work is by preventing little hands from getting a solid grip on the knob. Meanwhile, adults can easily bypass the mechanism.
For parents or anyone who will be watching a curious crawler or toddler, door knob covers are highly recommended. These products are relatively inexpensive and can easily prevent a tragedy.
Recommended Products:
Safety 1st Grip 'n Twist Door Knob Covers are designed to fit over most standard doorknobs. The products work by putting a handy case over the knob. Parents can bypass it easily with a pinch, but the door will seem quite inaccessible to children.
For non-knobs, try the Safety 1st Lever Handle Lock. This safety product is designed for most French/Lever style handles. It locks in place and must be pressed and slid in order for the door to open.
Avoiding Pinched Fingers
Now that we've covered the doors that should remain closed, how do we protect little ones from the doors that we're okay with them using? The next step in baby-proofing doors is to install pinch guards.
When a child sees a door closing, he or she might instinctively try to "catch it." This can lead to their fingers getting caught, causing a lot of tears. Alternately, they might simply want to play with the hinges, which can result in their fingers getting pinched on that side of the door.
To this end, a door pinch guard can help. These specially designed baby-proofing devices rest between your door and its hinge, preventing the door from closing suddenly and trapping your child's hand. Even better, they can be placed at any height, allowing parents or guardians to keep them out of a child's reach. These are a great way to prevent the door from fully swinging closed and hurting precious little fingers.
Recommended Products:
Cardinal Gates Pinch Guards are strong yet flexible. Made from non-toxic plastic, these are simple to install. The easy-to-use "U"-shaped pinch guard may be installed on the hinge, latch, or top of your door.