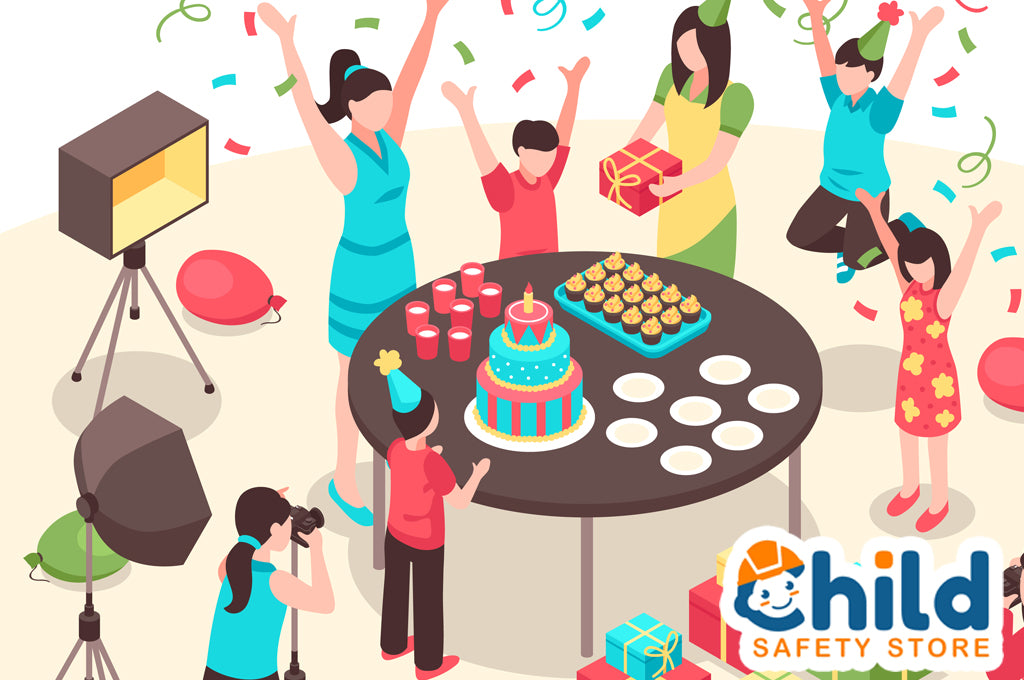 6 Safety Tips for Your Child's Birthday Party
Your child's birthday party should be a fun celebration. However, things can suddenly go awry if precautions aren't taken. After all, a room full of energetic little ones can get chaotic pretty quickly! A few simple cautionary actions and smart decisions can help you to keep the kids safe and happy.
Here are some safety tips for your child's birthday party that may help you to remain in control without missing a beat of fun.
Choose Balloons Carefully for Your Child's Birthday Party
What's a child's birthday party without balloons? They're colorful, welcoming and provide a great photo opportunity. Just be careful to choose wisely. You see, latex balloons are a very common choking hazard. Having them around, even if they are not inflated, can be a risk. Many curious children imitate their parents by trying to blow up the balloons, or try to put the balloon or its broken pieces in their mouths. However, they can easily breathe in a piece of latex, which can block off the child's airway. Opt for Mylar foil balloons instead. Many of them even come with your child's favorite characters!
Keep Potential Allergies in Mind 
We're hearing more and more about children with food allergies lately. It is worth your while to check in with parents of the kids who will be attending your child's birthday party. This way you can be cautious about what you serve so that no one has an adverse reaction to any ingredients. As a precaution, you may choose to stay away from foods that children are commonly allergic to as well, like peanuts. Last, consider asking that any child with food allergies bring an EpiPen just in case it is needed. It's better to be prepared!
Remove Choking Hazards From the Menu 
We talked about latex balloons as a potential choking hazard. Well, food-related choking is an even bigger concern. To start, you may want to cross hot dogs off of the shopping list. A study by the Center for Injury Research and Policy of the Research Institute at Nationwide Children's Hospital and the Centers for Disease Control and Prevention reported choking statistics for children aged 14 and younger. Believe it or not, for food-related choking, hot dogs were given their own category. This reinforces what a significant threat they are. If you do serve hot dogs, cut them lengthwise and sliced into half-inch pieces. Candy also accounted for 30 percent of all choking episodes. Half of these incidents were from hard candies. Now is a good time to stress that at least one adult who is actively supervising the party should know CPR. This could be a life-saving measure.
Take Proper Precautions if There's a Pool on the Premises 
When a child goes missing, it's best to check the pool first. While swimming can be a lot of fun, pools can also pose a significant safety risk if you aren't careful. It is best to have a pool fence around your pool area and keep that area protected – even if your child's birthday party isn't a pool party. Make sure the entrance to the pool area has via a self-closing, self-latching gate. Last, make sure there are no toys in the pool that can tempt a little one from trying to get into this restricted area.
Ensure Enough Adult Supervision 
Where there are kids, there should be adults supervising those kids. During busy birthday parties, it is easy to lose track of so many curious wanderers. The key is to have multiple adults who are responsible for keeping an eye on a few children each. These adult supervisors should avoid distractions, like cell phones or chatting with other parents.
Consider the Ages of All Children Attending… and Child-Proof Accordingly 
Kids are quick, curious and adventurous. Without the adult supervision mentioned above, they can easily get themselves into trouble. This is far less likely to happen if the house is properly protected from potential mishaps. If children of varying ages will be attending the party, take into account the ages of all kids and child-proof accordingly. This includes any accessible spaces like bathrooms, stairways, kitchens, washing machines, pool areas, and more. If it seems like overkill, remember that safety is never an unnecessary measure. In fact it's the best recipe for a fun and memorable child's birthday party!