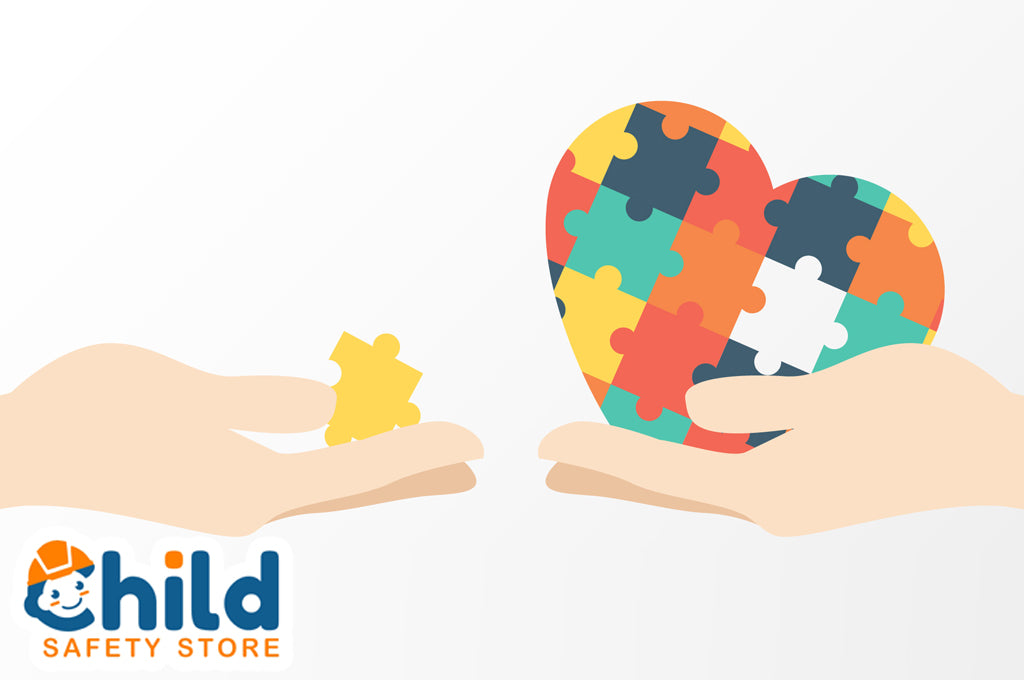 Safety Products for Kids with Autism
All children can get into trouble or find themselves accidentally in harm's way. This is a situation that plagues the thoughts of most parents. When it comes to kids with autism however, there can be even more cause for concern.
As you'll see, for children on the autism spectrum, life is often much more dangerous. How much more dangerous? Well, this study by the American Journal of Public Health (AJPH) shows that, on average, people who were diagnosed with autism died 35.8 years younger than other members of the general population.
Kids with Autism: Potential Pitfalls
The same AJPH study mentioned above also points to a major difference in injury-related deaths for people on the autism spectrum. As you can imagine, news like this is a source of tremendous fear for parents of kids with autism.
It's critical to remember that autism is a spectrum. It is not a simple diagnosis. Therefore, each child should be treated differently. Some of these children are extremely high-functioning, while others are not. Parents of these kids may notice some additional difficulties, including a tendency of their child to wander off. In addition, kids with autism are often more likely than their peers to fall, have an accident or put themselves in danger.
We're not going to dig into the nitty-gritty of an autism diagnosis. Anyone looking for further information on autism should explore some of these helpful resources:
Safety First
Instead, for the remainder of today's blog, let's take a look at a few products that may be able to assist parents of kids with autism. Now, as we've mentioned, each autism diagnosis is different. Even though kids with autism tend to be at greater risk, there is help to be found. Many times, it only takes a few basic changes to radically lower the risk of injury.
Here are some products to help set your mind at ease:
Temporary Safety Tattoos
The first product we'd like to point out is the Temporary Safety Tattoo. These clever products help parents of kids with autism (or any kids, really) to keep track of their child in case they are ever separated.
These customizable tattoos are designed to look fun and contain all of your child's relevant contact information. Other child identification products on the market, such as ID bracelets and wristbands, can be lost or removed. With a tattoo, the information is literally stuck to your kid's skin! Take a look at the SafetyTat Variety Pack.
To learn more, you can read our full blog post about these helpful little products.
Children tend to have more sensitive ears than adults. For kids with autism, their hearing can be even more sensitive. In these cases, extreme reactions to loud noises are quite common. These reactions can interfere with functioning across home, community and school settings. 
What exactly is too loud? According to the World Health Organization, anything over 80 decibels is actually too much for any child to handle.
One solution, in this case, is a product like KidCo WhispEars ear protection. These handy noise-cancelling headphones offer foam cushions that are easily adjustable for a comfortable fit. Most importantly, they can prevent your child from being startled or experiencing potential hearing loss.
Autism Chewies
Often children with autism have trouble focusing or staying calm. To that end, here's a terrific solution from Autism-Products. Autism Chewies have a variety of different uses and come in a several different shapes.
According to Autism-Products, these devices can:
help a child overcome teeth grinding
help develop oral motor skills
are excellent aids in jaw rehabilitation
In addition, the different textures of each product may help kids with autism to become more receptive to various textures of foods. There is a wide variety of other uses that are listed on the website. Take a look!
Together, these helpful products just scratch the surface of what is available for parents of kids with autism. If you have other suggestions, please share them with the community on the official Child Safety Store facebook page.