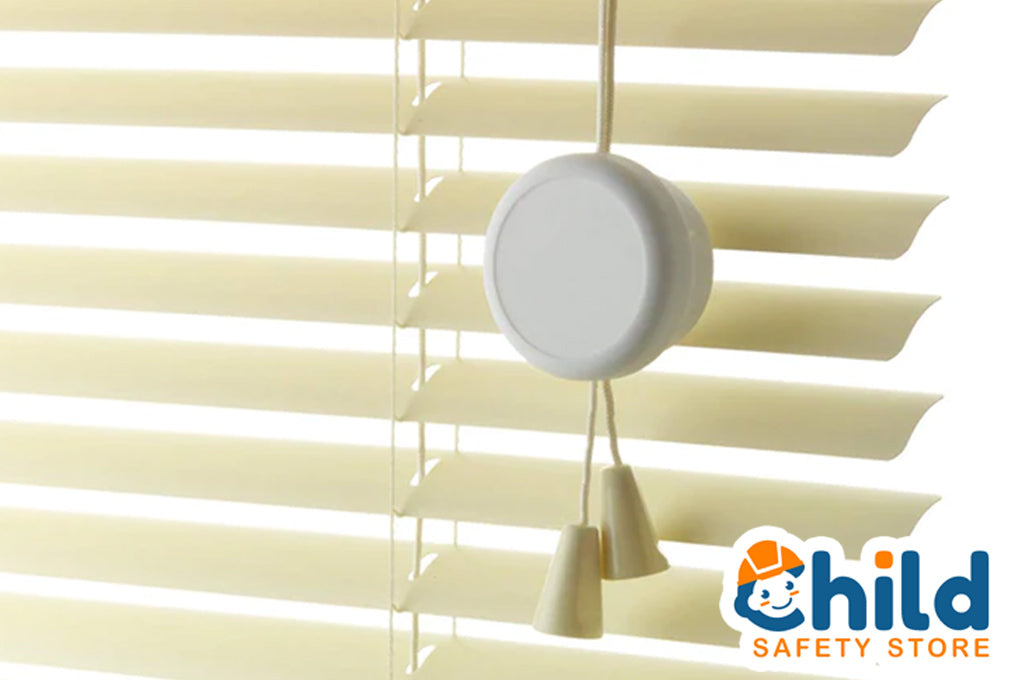 Product Focus: Safety 1st Blind Cord Wind Ups
Hey there, parents! We know how important it is to create a safe environment for your little munchkins. That's why we're excited to introduce you to a product that will make baby-proofing your home a breeze. Say hello to Safety 1st Blind Cord Wind-Ups, a wonderful solution for keeping your windows safe and secure for your curious explorers.
No More Worries About Dangling Blind Cords
We all know how tempting those dangling blind cords can be for our little adventurers. Unfortunately, we also know that these cords can easily present the risk of strangling. But fret not! Safety 1st Blind Cord Wind-Ups are here to save the day.
These nifty devices will keep those cords out of your child's reach, ensuring they stay safe while allowing you to effortlessly operate your blinds. It's a win-win!
Keeping Your Home Safe: The Disturbing Truth
Did you know that corded window blinds have caused serious injuries and even deaths? It's a chilling fact that we can't ignore. According to the U.S. Consumer Product Safety Commission, between 1996 and 2012, a shocking 293 children were seriously injured or lost their lives due to window cords. It's a truly heart-wrenching statistic.
Don't let your child become a part of that statistic. Take action now and make your home a safer place. Safety 1st Blind Cord Wind-Ups were specifically designed to address this hidden hazard. In 2015, they were recognized as one of the top five hidden hazards in the Home category of the Consumer Safety Product website.
Safety 1st Blind Cord Wind Ups are Simple to Use
For busy parents, convenience is key. That's why Safety 1st Blind Cord Wind-Ups are designed to be easy to use. Just clip these durable plastic holders onto your blind cords. Then, with a simple turn of your wrist, the excess cord is neatly retracted and wound up inside. No more messy cords, no more hazards.
A Versatile Solution That Doesn't Get in the Way
Now, you might be thinking, "Will these wind-ups interfere with my blinds?" Absolutely not! Safety 1st Blind Cord Wind-Ups are ingeniously crafted to ensure that they don't get in the way of your blinds' functionality.
In fact, they discreetly blend in with your window decor, allowing you to maintain the style and functionality of your blinds while keeping your little ones safe.
Features That'll Make You Smile
Let's take a quick look at the highlights of Safety 1st Blind Cord Wind-Ups:
Keep Dangling Cords Out of Reach: Protect your child from the dangers of playing with window blind cords. Safety 1st Blind Cord Wind-Ups ensures that these cords are safely stored away.
Prevent Choking Accidents: You can easily retract the excess cord, preventing any potential choking hazards.
Effortless for Parents: We know you've got your hands full. Luckily, this product makes sure winding and releasing the cord is a breeze. This way, you can focus on what matters most.
Durable and Dependable: Made from sturdy plastic, these wind-ups are built to last. You can trust them to withstand the daily adventures of your little ones.
Embrace Peace of Mind
At Child Safety Store, we have these Safety 1st Blind Cord Wind-Ups available in our store. Your child's safety should never be compromised. So why wait? It's a small investment that will make a world of difference in creating a secure and loving environment for your little ones.
Remember, as parents, it's our duty to keep our children safe from harm. With Safety 1st Blind Cord Wind-Ups, you can check off one more item on your safety checklist. Let's make every corner of our homes a haven of joy and security for our precious little explorers.