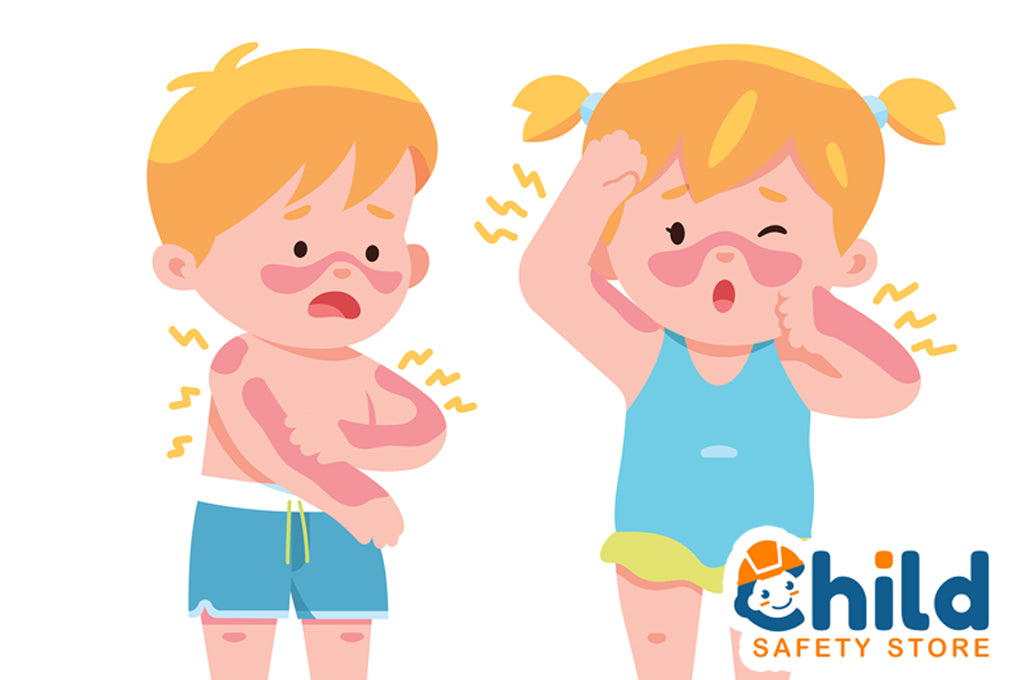 National Healthy Skin Month: Caring for Your Baby's Skin
November is National Healthy Skin Month, so we're putting a spotlight on your baby's sensitive skin. Some people may be surprised, but skin is the body's largest organ – so of course you want to take good care of it!  However, what may seem natural for adults may differ for children, and especially babies.   
Since a child's skin is more sensitive than ours, it is important to know how you can be mindful of their skin care needs. This is what we'll focus on for this Child Safety Store blog post.  
Here are five tips for National Healthy Skin Month that can help you care for your baby's skin:
Use sunscreen.
We can't stress this one enough. Since children's skin is so sensitive, it is also more susceptible to burns. What makes matters worse is that, according to the CDC, all it takes is a few serious sunburns in childhood for your risk of skin cancer later in life to increase. 
One simple step you can take is to keep your little one out of the sun during peak hours (between 10am and 2pm). When it comes to sunscreen, beware. Babies younger than six months old should not wear sunscreen. They should be kept in the shade and away from direct sunlight as much as possible.  For children older than six months, sunscreen should be administered regularly. It's important to remember this point even during the winter months.  Check out more sun safety tips in this earlier blog post.
Avoid diaper rash.
Diaper rash is a very common occurrence for babies. Still, seeing that poor bottom get all red and irritated can be tough for us parents. This typically occurs because the skin is against a damp or soiled diaper for an extended period of time. One simple way to avoid this is to change your baby's diaper frequently. While baby powder has traditionally been a popular way to treat these rashes, there has been much debate over the safety of talc-based powders.  A zinc oxide-based ointment is recommended instead.
Be mindful of products and detergents.
As we've mentioned, babies' skin is sensitive. Because of this, it is important to be careful of anything that will sit against their skin for prolonged periods of time. Therefore, you'll want to wash any new clothes before they are worn in order to remove any irritants that may be on the fabric. When washing the clothes, use a detergent for sensitive skin, or a product designed especially for baby clothes.
Last, be mindful of wipes, diapers, ointments and anything else applied directly to your baby's skin. These things should be used, whenever you use a new product, keep an eye out for any allergic reactions to them. In these cases, you'll typically notice skin irritation. 
Try scratch mittens.
Let's face it: those little nails are sharp! Babies have little control over their arm movements, and often that results in nicks and scratches on their faces from their own doing. In a previous blog post, we wrote about the differing opinions about scratch mittens.  These are soft mittens that are worn by a baby to prevent potential injury. If you're so inclined, give them a try. It's a perfectly valid way to keep your baby's skin protected. 
Don't overuse the soap.
Adults use soap every day. However, babies don't typically need the same consistent cleansing. In fact, if you aren't careful, soap can dry up their soft, smooth skin. When you do use soap, be sure that it is unscented and mild, and make sure that it is thoroughly rinsed from your baby's body immediately after use.