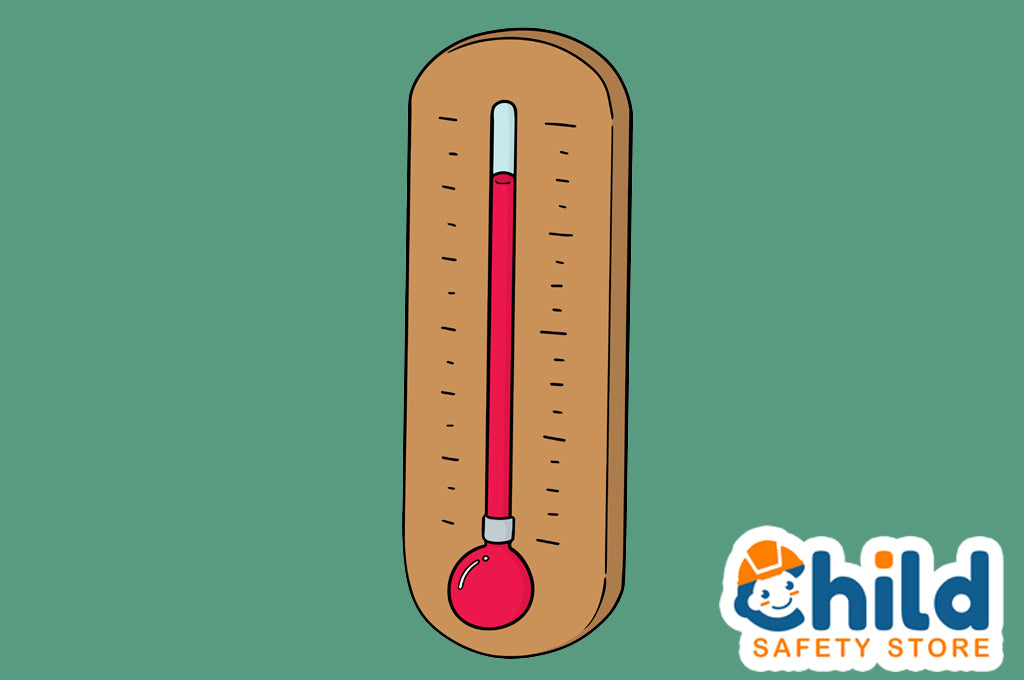 Keeping Kids Safe During a Heat Wave
Temperatures throughout many parts of the U.S. have sky-rocketed this summer. It's time to prepare for a heat wave. This means that our little ones need some extra help staying cool and safe in these dangerous conditions. Without proper care, fun in the sun can quickly cause a heat-related illness. 
Keeping Children Safe During a Heat Wave
The simple fact is that children can't regulate their body temperatures as easily as adults can.  In the summer heat, this can result in some scary circumstances like heat stroke, heat exhaustion, and other heat-related illnesses. According to the Centers for Disease Control and Prevention, children under four years of age are at the greatest risk.  Even sunburns happen extremely quickly. This makes sense, given that children's skin is more sensitive, and they likely won't recognize the same signs of exhaustion that a caregiver would.  This is why it is vital for an adult to pay close attention to a child's activities and whereabouts in the hot weather.
Heat Exhaustion vs. Heat Stroke
Contrary to what you may assume, a child with heat exhaustion will have cold skin that may feel clammy. This illness also shows itself in the form of nausea, cramps and dizziness.  If you notice any of these symptoms in your child, get them to relax, and cool them down in whatever ways you can.  This may include having them drink lots of water, lie down and focus on their breathing, or have them change from sweaty clothes into something a little more lightweight and comfortable. It's best to manage this illness now, before it gets worse.  When it goes unnoticed, it turns to heat stroke, which is even more severe.
Heat stroke is even more serious than heat exhaustion.  In fact, it can be life threatening. If your child seems disoriented, has a fever and has skin that is now taught and dry, heat stroke may be the culprit. If you suspect that this is the case, call 911.
Limit outdoor activities: Getting some fresh air is great. However, it makes a lot of sense to Limit the length of time your child spends outdoors in the sun. This is especially true during the peak hours of 10am-2pm. Caregivers should encourage activities that will keep their child cool, such as time in the pool. Also encourage frequent breaks, during which the child can come inside to cool off and stay hydrated by drinking plenty of water.
Don't leave your child in the car: There are several reasons why a child may be left in a hot car: they were forgotten, climbed into the car themselves, or were momentarily left on purpose. The temperature in a car heats up extremely quickly, which can easily cause a child to suffer from heat-related illness.
Beware of dehydration: Keep your child's body temperature at bay by making sure that they are drinking water throughout the day. As they use of their energy, this will help them to replenish. Otherwise, they may experience lightheadedness and weakness.
Garden hose safety: When water sits inside a garden hose that is outdoors, it can sit in the sun for hours.  This water heats up to alarming temperatures and can cause severe burns once you turn on the hose.  Avoid having your hose outdoors, but if you do, be sure that the water is drained from it when it isn't in use.
Always wear sunscreen: It doesn't take long for a child to burn in the sun. Wearing sunscreen, lightweight clothing and a brimmed hat can prevent these painful sunburns. If your child is under six months old, you should avoid sunscreen. Instead, they should be kept out of the sun and in the shade as much as possible.