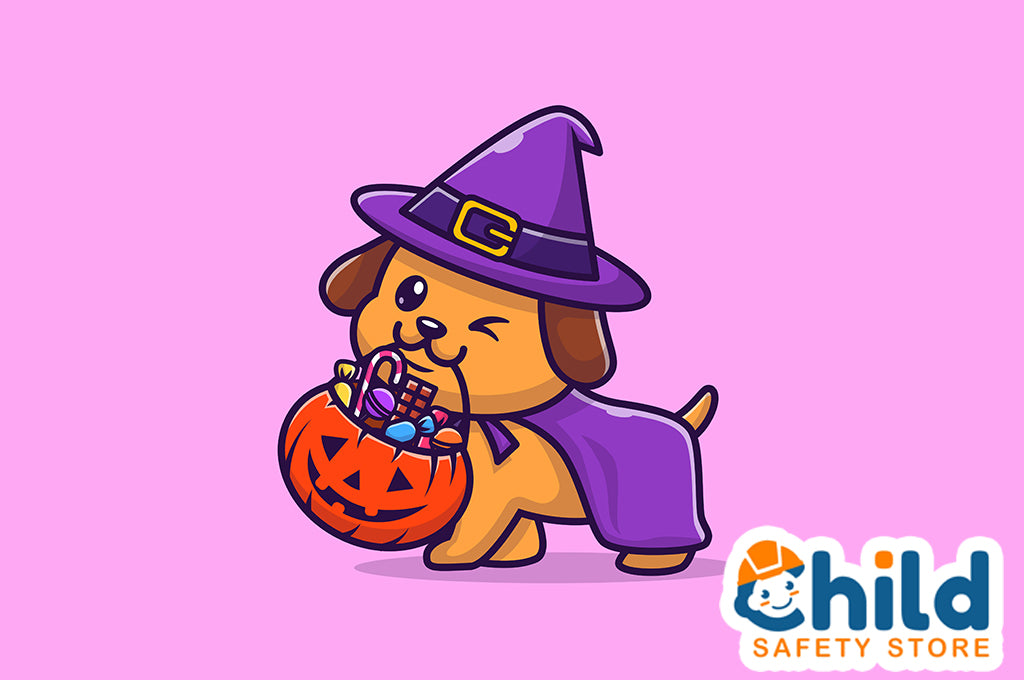 Halloween Safety for Kids and Dogs
As we reach the end of October, that spooky time of year is upon us. We've talked about autumn safety in the past, but today we are going over some Halloween safety for kids and dogs.
Preparing for Halloween Safety for Kids and Dogs 
As with many activities, safety starts with careful preparation. In this case, that means mapping out trick-or-treating routes, picking the right costume and getting every member of your house ready for the big day.
After all, while Halloween is a lot of fun, it can also be quite dangerous. The roads are crowded with excited kids. The adventure can go long into the night and, for our furry friends, this means the doorbell will be constantly ringing. To ensure as much safety as possible, it is best to think ahead.
Starting with Street Safety
As mentioned above, the roads should be the first area of concern when it comes to Halloween safety. During this festival, many kids are wearing dark costumes that can make them very difficult for passing motorists to spot. That's a recipe for disaster. According to data shared by the Washington Post and National Highway Traffic Safety Administration, kids between the ages of four and eight are ten times more likely to be killed by a car on Halloween.
There are a few solutions that can help manage this danger. For one, choose a bright colored costume and stay on well-lit streets. This can make it easier for drivers to see your kids in the road. Beyond this, make sure your kids know how to obey basic traffic safety. This means that kids should not play in the street and should only cross at dedicated intersections. This also applies to pets: don't let them into the street unattended. They can get disoriented or head into oncoming traffic. 
Above all, don't let the revelry of Halloween cloud your judgment. The streets are still a terrible place to play. When trick-or-treating, be sure to go with a group, if possible. An adult should be on hand for emergencies and to enforce Halloween safety rules for kids under the age of 12. There is safety in numbers, but only if everyone decides to obey the rules.
Read our full blog post to learn more about keeping kids safer on the streets.
Inspect the Haul
When the kids get home, they'll likely be eager to dig into that candy. Not so fast! With allergies and potential contamination, a guardian should be the first one to look at the candy.
For one, younger kids shouldn't be allowed to eat candy that can get stuck in their throats. Choking hazards are a legitimate danger. Additionally, many kids have allergies to certain foods. Be sure to eliminate treats that pose a risk before handing over the rest of the candy. This may delay the fun of diving into a mountain of candy, but it could spare you all a trip to the emergency room.
Halloween Safety for Dogs 
Now, what about the pets? First and foremost, remember that some candies that are delicious to us can be quite toxic to dogs. Chocolate instantly comes to mind here. It is best to hide all the candy or keep it out of reach of your furry friend. After all, out of sight is out of mind.
Beyond that, take some time before the big day to prepare your pooch for the doorbell. She will likely be startled by the constant interruptions and noise. She could even feel like the home is under attack. Take a moment ahead of time to normalize the idea of "guests" dropping by your home.
Finally, make sure to tuck away any decorations or wires. These can be chewed on. This can either lead to damaged decorations… or serious electric shock for your faithful pup.