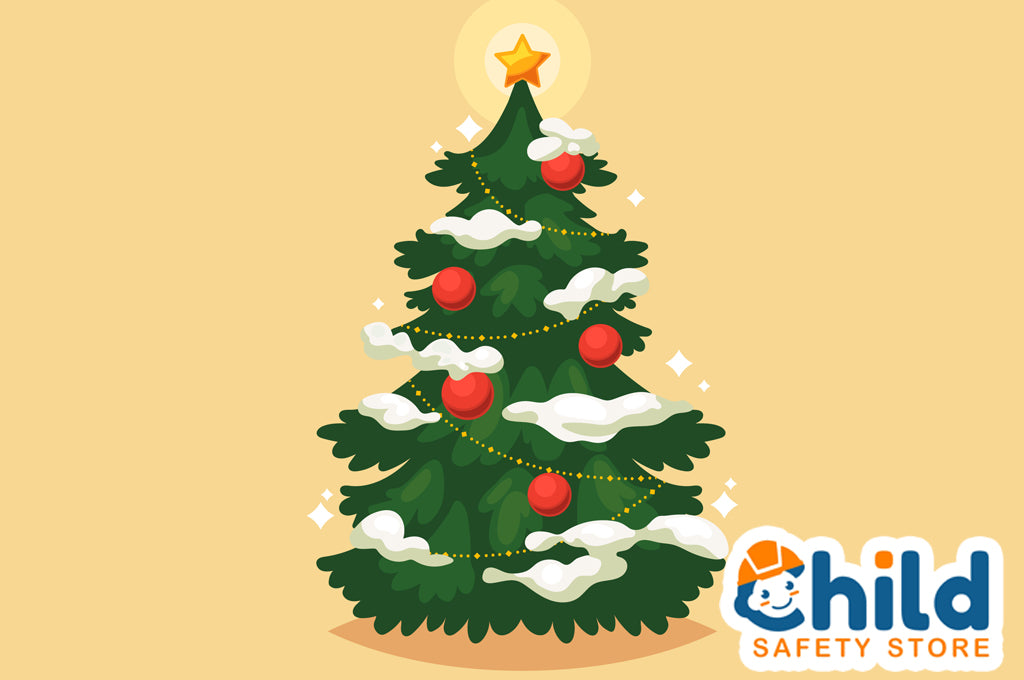 Christmas Tree Safety Tips
For some people, the aroma of pine, reminiscing over ornaments and sipping hot cocoa by a beautifully decorated tree are all part of what makes the Christmas season so special. We're all for having a merry time, but be careful! Let's talk about some Christmas tree safety tips.
If you use a real tree, there are steps you should be taking to make sure that your holiday season remains safe.
According to the National Fire Protection Association (NFPA), fire departments in the U.S. respond to an average of 160 home fires per year that start with Christmas trees. These fires can result in injury, death, and significant property damage. We've written about burning safety for children in the past, now let's go a step further. Part of keeping our children safe is keeping our homes safe. This is something we take very seriously at Child Safety Store.
Pick a Healthy Tree 
First things first, a freshly cut tree will last longer and is less likely to create a fire hazard. Here are some tips for finding the perfect healthy tree:
Opt for a tree that has green needles. When needles are starting to brown, this is a sign that the tree that is beginning to dry up.
Test the needles by putting slight pressure on a branch. A fresh tree will have a flexible branch and little to no needles falling from it.
The longer a tree lasts, the safer it is.  Help your tree last longer by cutting two inches from the base of the trunk before installing it in the tree stand. Then, keep the stand filled with water and refill it every day. This will prevent the tree from drying out.
Place Your Tree Away From Electrical and Heat Sources
According to NFPA, one in four home Christmas tree fires start when the tree is too close to a heat source. Another quarter of the fires are due to electrical problems.  Always place your tree away from these sources. This includes everything from fireplaces and candles to radiators and space heaters.
Don't overload your outlets or surge protector either, as this can be a fire hazard.  As a general rule, don't use more than three light sets on any one extension cord.
Buy the Right Kind of Lights
Make sure your lights have been tested by the UL or ETL/ITSNA. You should also check them before they go on the tree, especially if you are reusing them from previous years. Check that they aren't damaged and don't have exposed wire or loose lights. If you notice any of these things, replace the lights. It's worth the extra money to avoid a fire.
Lights Off Before Bed
Speaking of lights, never leave your tree lit when you are not home or when you go to bed. In these cases, if a fire starts you may not know in time.  To this point, don't let the tree block any exits from your home. In case of fire, you'll need a quick way out.
When to Get Rid of Your Tree
A major Christmas tree safety tip is knowing when it's time to say goodbye. Once your tree's needles are consistently dropping, it's a good idea to dispose of it. Find a recycling program in your community or check with your town's sanitation department for their pick-up schedule.
Christmas Tree Safety With Kids and Pets
Here are a few additional Christmas tree safety tips for those of us with small children and pets:
Make sure pets don't drink the water that is meant to be keeping the tree alive.
Don't let kids don't pull at the tree branches. Trees can be unsteady and you don't want it falling on them!
Place ornaments wisely. Ones that are low on the tree should be safe for children. Keep any breakables or choking hazards high up or off the tree. 
Young children and pets both like to bite on things, so don't give them access to the tree's lights. You certainly don't want this electrical source ending up in their mouths.
Be careful of trip hazards, if you have wires running to a nearby outlet or a tree skirt that extends into the room.
Have a happy and safe holiday season!