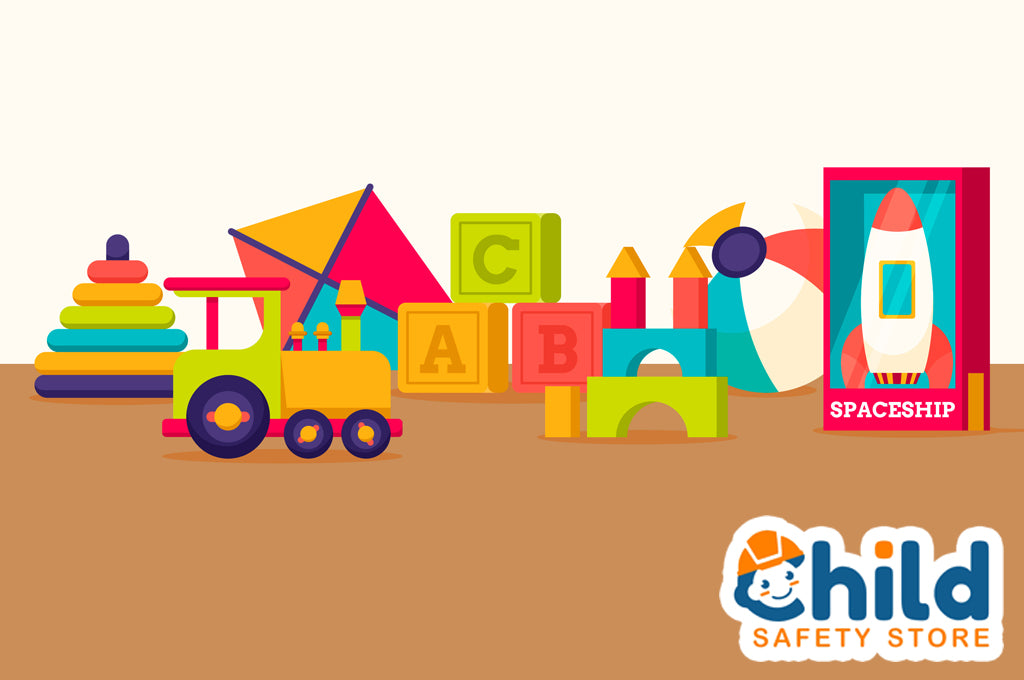 Holiday Toy Safety Tips
Now that the holidays have come and gone, your kids are likely swimming in a sea of new toys. Before you open them, it's a good idea to be aware of a few toy safety tips to help to keep you and your children free from injury.
It's Child Safety Store's job to help keep your kids safe, and that's a job we take very seriously! Let's take a look at some toy safety tips to consider as your child opens their new gifts.
Holiday Toy Safety Tips
Know the Child's Development Level
Of all the toy safety tips, choosing the right toy for the right child is the most important. The recommended age range on the toy's box can act as a great general guideline. However, it is also a important to consider each child's individual development level.
To that end, choose toys that coincide with the child's skill levels. Ask yourself what will help to advance their growth – are they working on their fine motor skills, or hand-eye coordination? There's a toy for that!
Beware of Strangulation Hazards
Before allowing your child to use a toy, remove any ribbons, cords or strings that can get wrapped around their neck. According to the U.S. Consumer Product Safety Commission (CPSC), the strings and straps on toys such as guitar straps and necklaces, can strangle a young child.
Look for Choking Hazards
Take a look at each new toy your child receives and determine if there are any choking hazards. As we're all well aware of, our little ones have the tendency to put everything in their mouths. Small pieces that are removable or can break off of a toy may easily end up in a young child's mouth. According to the American Academy of Pediatrics (AAP), "government regulations specify that toys for children under age three cannot have parts less than 1 1/4 inches in diameter and 2 1/4 inches long."
Consider Limiting Screen Time 
On this blog, we have discussed screen time before. This advice also applies when discussing toy safety tips. Every parent should make decisions on how their own child spends their time, but you should consider these household regulations when buying gifts for your child (or anyone else's for that matter).
It is also important to be aware that the AAP recommends that screen time be avoided for children who are two years of age and younger, and limited for older children. "Children younger than 5 years should only be allowed to play with developmentally appropriate computer or video games, ideally accompanied by the parent or caregiver."
Beware of Unsafe Packaging
Sure, a toy may be safe, but what about the packaging it came in? Be sure to open your child's toys for them. While doing so, look out for any warning labels and special instructions. Remove all plastic tabs that secure the toys to the packaging. In addition, immediately throw away plastic bags and packaging materials. Last, remove plastic film coverings that come attached to the surface of toys such as mirrors and screens.
Consider Where You Store Your Toys
Toy boxes and chests can be enormously helpful. They allow you to gather all of your child's possessions for storage in a neat container. However, these boxes can also be quite unsafe. For one, the lid on a toy box can catch your little one's fingers or hit their heads when it closes. To avoid this, make sure the box has a hinged lid that remains open at any angle. Additionally, a child can get trapped inside the box while looking for toys. Make sure that there is ventilation inside the closed box. If you are unsure of the safety of your toy box, you can remove the lid altogether. The toys will still be contained neatly and your child will remain safe.
Check for Recalls
Finally, one of the most important toy safety tips is knowing if something is wrong with an entire line of products. Keep an eye out for recalls, warnings and notices about the safety of your child's toys. Recalls.gov provides valuable details about any products and toys that have been recalled for safety reasons. Additionally, we do our best to update parents on critical product recalls right here on the Child Safety Blog.