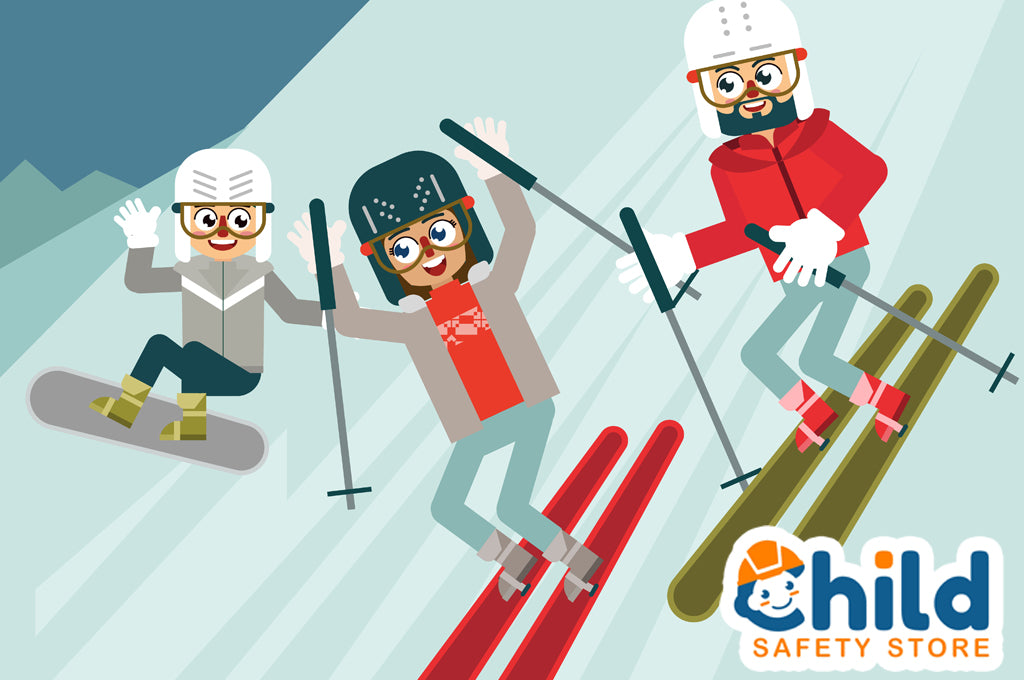 Skiing and Snowboarding Safety for Kids
Skiing and snowboarding safety guidelines can be helpful whether you're a novice or a pro. But for young kids, they are absolutely essential. At Child Safety Store, love winter fun, but let's face it: skiing and snowboarding safety is no joke. Those snowy hills can be tricky business! 
According to the National Safety Council, snowboarding alone caused 54,188 emergency department visits in 2011. Let's take a look at how these types of injuries can be avoided. 
What Age Can Your Child Learn to Ski and Snowboard?
You may be wondering how early your child can learn to ski or snowboard. As with most things, it depends. Every child is different, so it is important to be mindful of each individual child's abilities. According to healthychildren.org, a website run by American Academy of Pediatricians, most resorts begin ski school at age four, but will not teach snowboarding to children until they are at least seven years old.
Follow Skiing and Snowboarding Safety Guidelines
The National Safety Council reports that the most common factors in ski and snowboard deaths are "excess speed, loss of control and collisions with stationary objects, like a tree or lift tower."  These skiing and snowboarding safety tips will help any child – or adult – to be more careful. 
Take Lessons.
It is far too risky to "wing it" when you're attempting such a potentially dangerous sport. As with any winter activities, learn the ins and outs of the sport by taking lessons first. Don't just assume that you'll be able to get the hang of it once you're out there.
Know the Weather.  
Always check the weather conditions before heading to the slopes or half-pipe.
Yield to Others.
If you are heading downhill or merging into another trail, give those in front of you the right of way.
Stop Safely.
If you need to stop along your route, don't do so in the middle of the trail. Be sure to stop on the side of the run instead.
Obey the Rules.
Rules are rules for a reason. That may not sound fun, but it's wise to pay attention to signs that are posted and avoid any closed areas. Go over these expectations with your children very carefully and have them look out for any indications of danger like barriers and warnings.
Never Ski Alone.
A child should never ski or snowboard unless they are accompanied. Young kids should have an experienced caregiver with them. Older children should have a caregiver or friend. Just as with swimming, the buddy system will usually keep kids accountable.
Be Prepared With Proper Gear 
Wear your helmet. It's as simple as that. This single skiing and snowboarding safety tip can be the difference between life and death. According to the Consumer Product Safety Commission, helmet use by skiers and snowboarders could prevent or reduce the severity of 53 percent of head injuries to children under the age of 15 (or 44 percent of head injuries to adults). The risk of head injury to children is higher than any other age group.
In addition to a helmet, your child should always wear boots and bindings that properly fit and layers of clothing that are warm, water-repellent and windproof to prevent hypothermia. Last, just because it's winter doesn't mean you can't burn from the sun. In fact, snow reflects UV rays, making sunburn a serious possibility.
Keep these skiing and snowboarding safety guidelines in mind when preparing your children for these snowy sports. A fun day can be a safe day, too!