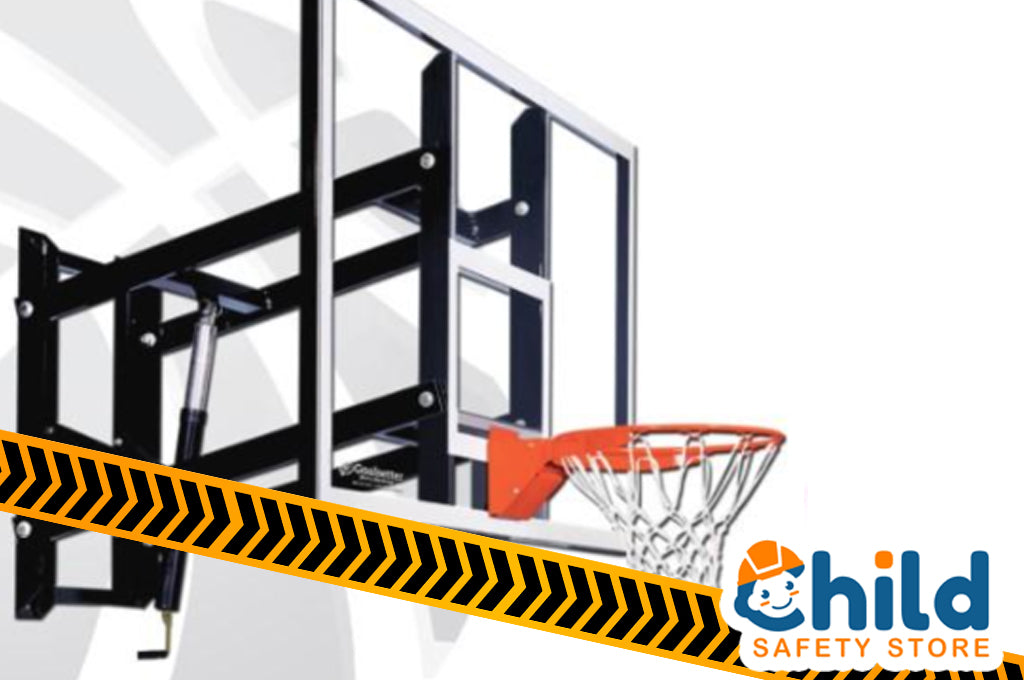 Safety Recall Alert: Goalsetter Wall-Mounted Basketball Goal
On this blog, we like to alert our readers of any potential hazards in their homes. It is our aim to keep you and your children safe. This latest recall is a good safety reminder: If a product poses a danger, that doesn't mean it will immediately be pulled from the shelves. In this case, a Goalsetter wall-mounted basketball goal has been recalled four years after the death of a teenager.
Since this product has been on sale for quite some time, 18,000 units are now being recalled. Let's learn more about why this basketball hoop poses a threat. 
Why is the Goalsetter Wall-Mounted Basketball Goal Being Recalled?
According to a statement by the US Consumer Product Safety Commission and Goalsetter Systems Inc., the basketball goal can unexpectedly detach and fall to the ground. This threat is a very serious one.
As we mentioned above, it has already caused one death. In that incident back in June 2018, the basketball goal fell on a fourteen-year-old. Unfortunately, this isn't the only customer affected. In fact, three other injuries have also been reported.
In one report, a consumer sustained severe facial injuries. In another case, a consumer sustained a fractured leg due to this product malfunction. This is obviously a significant recall with serious ramifications. 
How Do I Know If I Have the Recalled Product?
This recall includes products from two Goalsetter series: the Goalsetter Adjustable and Fixed Wall Mount Series and the GS Baseline Series. This applies to 72-inch, 60-inch, 54-inch, and 48-inch wall-mounted goal systems. Printed on the lower left corner of all of the backboards is a white Goalsetter logo.
These Goalsetter products were sold at SCHEELS stores and basketball equipment stores nationwide. Additionally, they were sold by several major retailers online, including amazon.com, dickssportinggoods.com, walmart.com, competitiveedgeproducts.com and target.com between November 1999 and June 2022. These products cost anywhere between $919 and $2,250.
What Should I Do If I Have the Recalled Goalsetter Wall-Mounted Basketball Goal?  
If you own one of a recalled Goalsetter wall-mounted basketball goal, you should stop using it immediately. Customers should contact Goalsetter for a full refund or free inspection of an installed basketball goal. This will include free removal of the product or installation of an additional safety bracket.
Here's the official information posted by the CPSC about the recalled Goalsetter wall-mounted basketball goals. 
Name of Product:
Goalsetter wall-mounted basketball goals
Hazard:
The basketball goal can detach from the wall and fall to the ground posing a serious impact injury hazard and risk of death.
Remedy:
Refund
Repair Recall Date:
October 27, 2022
Units:
About 18,000
Consumer Contact:
Goalsetter toll-free at 855-951-7460 from 9 a.m. to 6 p.m. ET Monday through Friday, or online at https://www.goalsetter.com/pages/basketball-wall-mount-recall or https://www.goalsetter.com and click on "SAFETY & RECALL" at the top of the page for more information. Goalsetter is contacting all known purchasers directly.