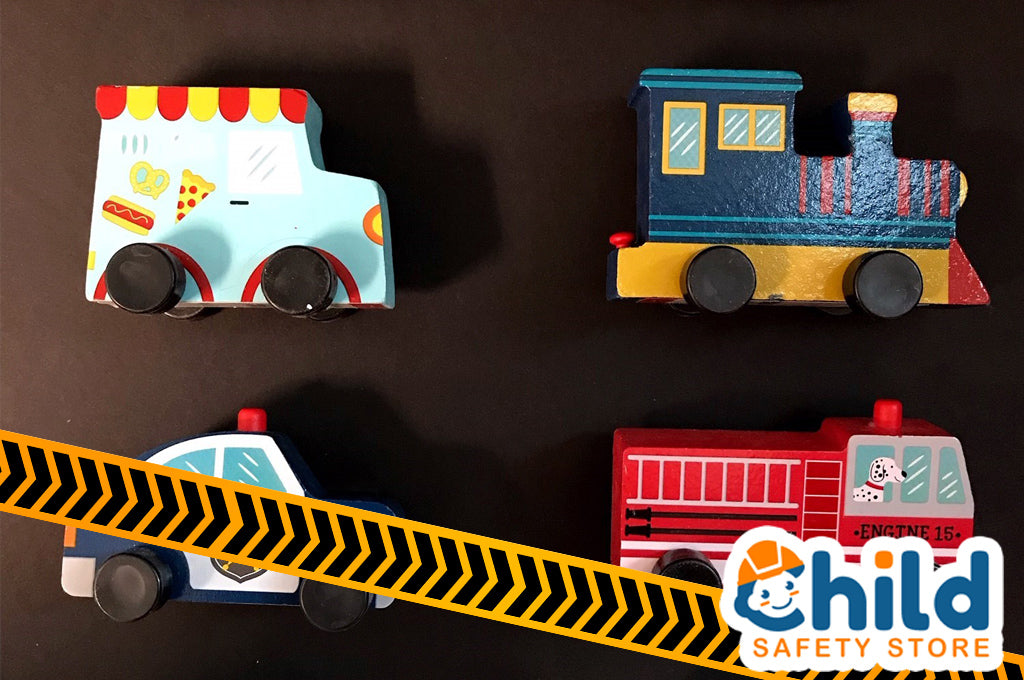 Recall Alert: Target Recalls Bullseye's Playground Wooden Toy Vehicles
Sadly, it is time for another product recall alert. This one comes from Target. The store is voluntarily recalling Bullseye's Playground wooden toy vehicles. As it turns out, it is a choking hazard.
Why are the Bullseye's Playground Wooden Toy Vehicles Being Recalled?
The product recall for these Bullseye's Playground wooden toy vehicles will affect 495,000 units sold between October and November of 2018. This alert arrives courtesy of a notice posted on the U.S. Consumer Product Safety Commission (CPSC) website.
While no injuries have been reported, there is a significant danger for children. According to the notice from the CPSC: "There have been four reports of the wheels detaching, including a report of a missing wheel when opened." The wheels of Bullseye's Playground wooden toy vehicles can detach, quickly becoming a risky choking hazard. The toys were sold individually in stores, and as an assorted 8-pack online. 
Here are the recall details, according to the CPSC:
Name of product:
Bullseye's Playground wooden toy vehicles
Hazard: The wheels on the vehicles can detach, posing a choking hazard to children.
Remedy:
Consumers should immediately take the recalled toys away from children and return the toys to any Target store for a full refund.
Recall date: 
April 18, 2019
Sold Exclusively At:
Target stores nationwide and online at Target.com from October 2018 through November 2018 for about $1 for individual vehicles and for about $8 for the 8-pack.
Manufacturer(s):
Zhejiang HuangyanXingbo Crafts Factory, of China
Importer(s):
Target Corp., of Minneapolis, Minn.
Manufactured In:
China
Supplier:
Horizon Group USA Inc., of Warren, NJ
Consumer Contact:
For more information, customers can contact Target at 800-440-0680 from 7 a.m. to 8 p.m. CT daily, online at www.target.com by clicking on "Recalls" at the bottom of the page and then on "Toys", or the "Product Recalls" tab on Target's Facebook page.
These are photos of the recalled products:
Here are the relevant details for the recalled products:
The recalled toys include a caboose, Santa in sleigh, ice cream truck/food truck, train, police car, fire truck, taxi, and digger. The item number, DPCI (model number), and UPC can all be found on a white sticker placed on the bottom of each vehicle. Item numbers included in the recall include:
| | | | |
| --- | --- | --- | --- |
| Name | Item# | DPCI (Model Number) | UPC |
| Caboose | 89304 | 234-18-0100 | 765940893043 |
| Santa in Sleigh | 89297 | 234-18-0100 | 765940892978 |
| Ice Cream Truck/Food Truck | 89298 | 234-18-0100 | 765940892985 |
| Train | 89301 | 234-18-0100 | 765940893012 |
| Police Car | 89303 | 234-18-0100 | 765940893036 |
| FireTruck | 89302 | 234-18-0100 | 765940893029 |
| Taxi | 89300 | 234-18-0100 | 765940893005 |
| Digger | 89299 | 234-18-0100 | 765940892992 |
| Toy Vehicles 8-Pack Assortment | NA | 234-20-0189 | 765940893159 |

At Child Safety Store, we try our best to educate and inform parents of potential dangers. In cases like this one, we want to signal boost official product recalls that may put children in harm's way.