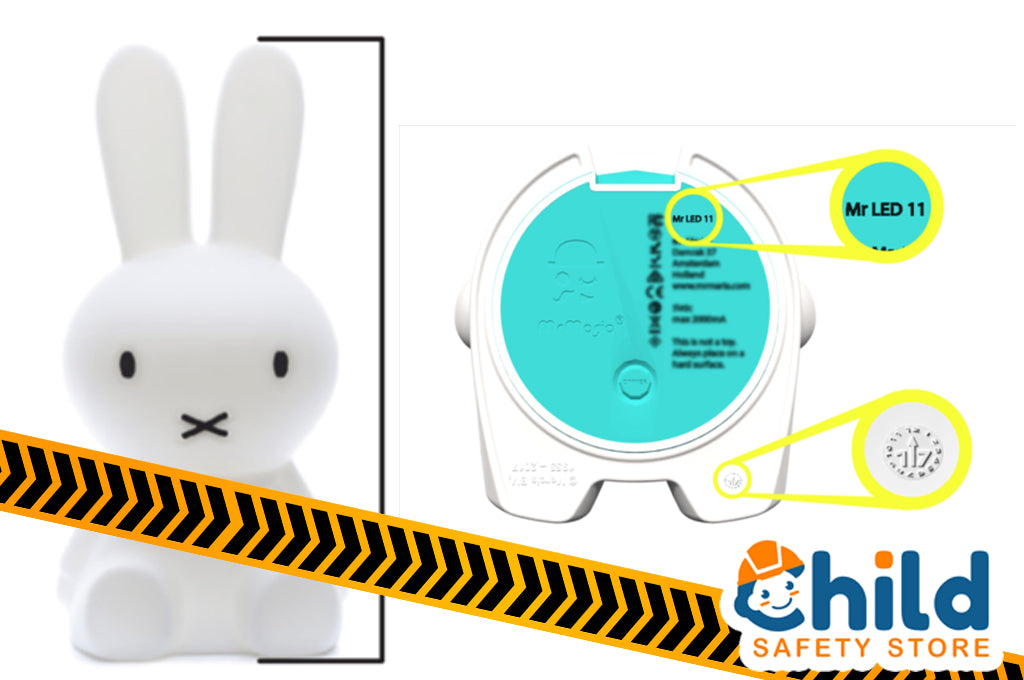 Recall Alert: Miffy First Lights
Keeping a child's nursery safe requires some careful purchases from attentive adults. This week's product recall alert concerns a device called Mr. Maria's Miffy First Lights. Fortunately, no one has reported an injury yet; however, the recalled lights had the possibility of overheating. This created a potential burn hazard. 
Let's Talk Night Lights
In the past, this safety blog has covered the concept of whether a night light is a good addition to a nursery. Believe it or not, there is actually a fair amount of debate around this issue. Of course, both proponent and detractors make some compelling points.
For night light supporters, a dark room can be a scary place for a young child. Keeping a bit of light on can put your little one at ease and provide some comfort. On the other hand, all of us are constantly surrounded by artificial lights. That's true morning, noon and night. Eliminating some of these from a nursery can help a tot to get used to natural dark without perpetual artificial light. In the end, the decision to install a night light is a personal one for parents. To learn more, read our full blog post about whether or not to put a night light in the nursery.
Why Are Mr. Maria's Miffy First Lights Being Recalled?
Now that we have shed some light on the darkened nursery, let us take a closer look at this recent product recall. To begin, about 1,400 Miffy First Lights have been voluntarily recalled. These lights were roughly 12 inches tall and shaped like a rabbit. These silicon LED lights also featured a step dimmer, a USB charger and a blue-colored label on the bottom. Obviously, these were designed to be pleasing to young eyes.
Unfortunately, some of these products can overheat during use and create a burn hazard. To prevent any injuries, the company has voluntarily recalled the model numbers Mr. LED 11 and Mr. LED 11A. Only the models with the blue label are affected by this recall. 
These recalled lights were produced in 2017 and 2018. The production year is embossed in a circle on the bottom right foot of the light; a "7" on the right side of the arrow represents 2017 and an "8" on the right side of the arrow represents 2018.
According to the official recall announcement, they were sold at baby boutiques, gift shops and children's stores nationwide from July 2018 through September 2019 for about $100. The shops included:
MoMA, New York City;
Clic Gallery, New York City;
Albee Baby, New York City;
Aldea Home, San Francisco;
Modern Art Museum, Fort Worth, Texas;
and Tabletop, Potomac, Maryland. 
Here is an image of the affected product:
How Can Customers Return the Affected Mr. Maria's Miffy First Lights?
Consumers should immediately stop using the recalled Miffy First Lights and visit https://www.mrmaria.com/bluemodule for instructions on how to determine which LED module is being recalled. Consumers who purchased the Miffy First LED Light at a local store should bring the light to the store to have the module replaced free of charge. Consumers who purchased the light online (or if the retailer is no longer in business) should take one photo of the blue label on the bottom of the light and one photo of the date embossed underneath the right foot of the light and email both photos together with their shipping address and phone number to bluemodule@mrmaria.com to receive an upgraded LED module free of charge.