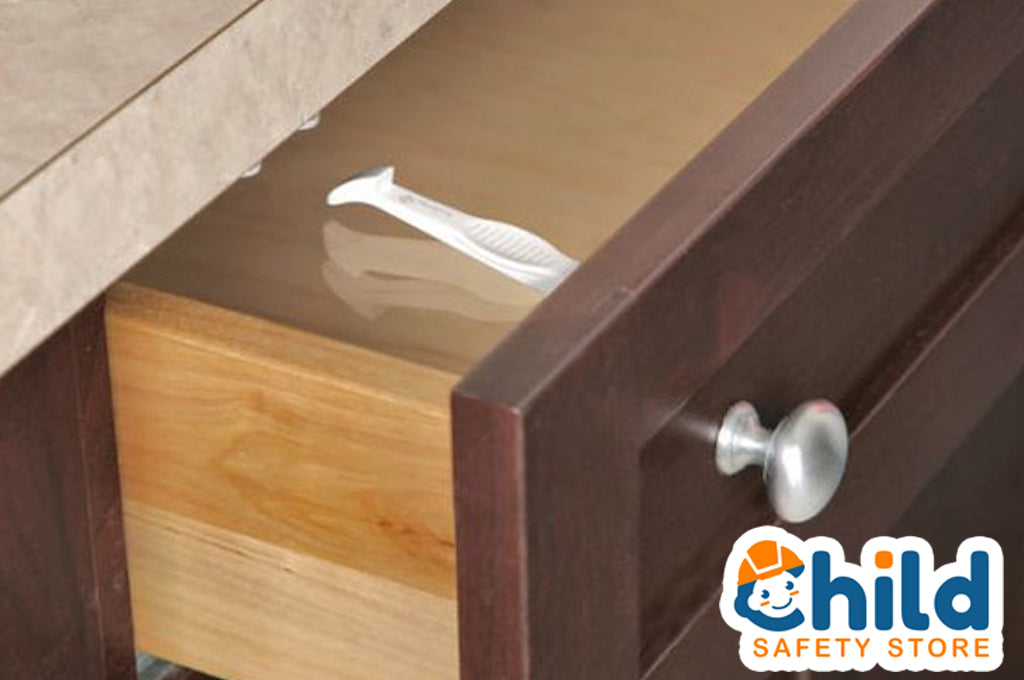 Product Spotlight: Safety 1st Press 'n Pivot Latches
Cabinet drawers and doors seem to be just hungry for little fingers. Unfortunately, as many parents know, little kids are just as happy to feed these pinching pieces of furniture! Don't fret, there is help. Today we'll be spotlighting one of our most useful products, Safety 1st Press 'n Pivot latches.
Why Worry About Cabinets?
Let's face it, little kids love to get into mischief. More than that, they love to explore places that seem forbidden. As we detailed in our post about cabinet safety, this definitely includes cabinets. After all, cabinets are where all the mysterious medicines and chemicals are locked up. These must seem like a goldmine to crawling babies and toddlers.
Now, not all cabinets are created equally. On the one hand, some can just contain food or other harmless items. But as we hinted at earlier, others can be much more hazardous to a little one's health.
Many of these cabinets and drawers often hide far more dangerous household objects, including poisonous cleaning chemicals or sharp kitchen knives. Even without the hazardous chemicals and dangerous items, cabinet doors can close tightly on little fingers. Keeping this in mind, all parents and guardians should take cabinet safety seriously. That's where Safety 1st Press 'n Pivot latches come in handy.
Focus on Safety 1st Press 'n Pivot Latches
The Press 'n Pivot Latches from Safety 1st are affordable and easy to use. Coming in packs of four, these devices are easy to install and remove. The latches feature a wide-grip surface. This offers quick access for adults, but keeps little hands out of harm's way. The door simply cannot open wide enough to give a child access to the materials within. For adults, they can be easily disabled with a simple push down. Just be sure to not let the kids notice that. You'd be surprised what they pick up on and imitate.
If the kitchen is busy, the Safety 1st Press 'n Pivot Latches conveniently pivot out of the way for periods of non-use. Don't worry though, they easily pivot right back into place when you need them again.
Product Highlights
Here are some highlights direct from our store page for the Press 'n Pivot Latches.
FEATURES
Pivots out of the way for periods of non-use
Wide, easy-grip surface for quick parent access
Simple to install and easy-to-use drawer latch
As you can see, the Safety 1st Press 'n Pivot latches are easy to use and easy on the eyes. When installed, they remain out of view until someone tries to open a drawer or cabinet. In case of spills or other mishaps, the latches are also quite easy to spot-wipe and clean. To learn more about the product and installation procedure, check out the full Press 'n Pivot Latch Instructions.