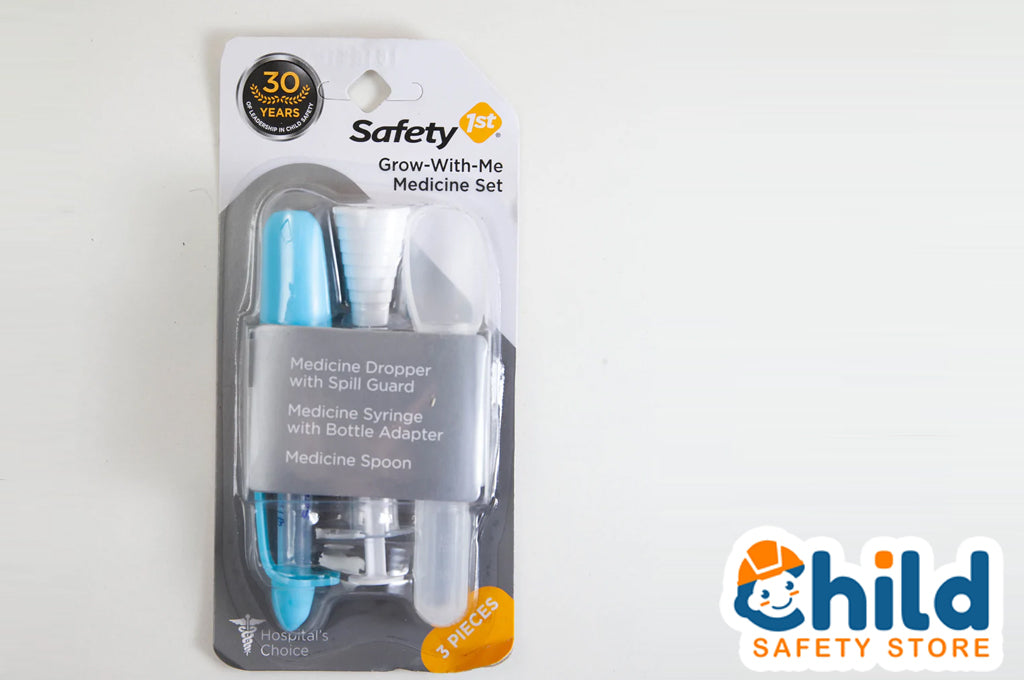 Product Spotlight: Safety 1st Grow-With-Me Medicine Set
As every parent knows, even the toughest kids get sick sometimes. Fortunately, even from a very young age, there is a special kit that can help. Today, we are shining the spotlight on the Safety 1st Grow-With-Me Medicine Set. 
Keeping Medicine on Hand for Sick Kids
When a child, particularly a very young child, starts to come down with a fever or cold, it can be a harrowing situation. Caring for your sick child is never easy, but it can be significantly harder for parents of infants and toddlers. 
Many new parents are nervous about what steps to take. First of all, we should stress that it is always crucial to consult the child's pediatrician. For very young kids, medicine might not be an option. If medicine is advised, it may be a different brand or dosage. The doctor will be able to provide proper advice in situations like these.
In the past, this blog has included articles specifically designed to help keep kids away from medicine. In those cases, the concern is mostly about keeping them out of the medicine cabinets and out of harm's way. Today, our topic is much more focused on how to administer care. Fortunately, there is help in the form of the Safety 1st Grow-With-Me Medicine Set.
What is the Safety 1st Grow-With-Me Medicine Set?
Kids love to fidget, and absolutely hate any taste that doesn't appeal to them. Let's face it, medicine can taste pretty nasty. Beyond taste, infants may not quite know how to force themselves to swallow. There is still so much they are learning.
Keeping with this theme, administering medicine to an infant or small child can be quite challenging. This is why Safety 1st designed the Grow-With-Me Medicine Set. This three-piece set is designed for young children ranging from infant to toddler.
According to the Child Safety Store product page, the Safety 1st Grow-With-Me Medicine Set contains three medicine dispensing options for your growing child:
Medicine dropper with spill guard, which is designed to provide an accurate dosage measurement.
Medicine syringe, which can easily and accurately dispense the baby's medicine.
Medicine spoon, which is perfect for dispensing medicine to your child as they get older.
These components can help to make the task of giving a little one medicine a lot more pleasant.
How Does the Safety 1st Grow-With-Me Medicine Set Work?
To start, dosing is a snap with the Grow-With-Me Medicine Set. For one, the Medicine Syringe comes with a bottle adapter, which allows for accurate dosing from open-topped medicine bottles. Overall, this helpful product is designed to be used easily, and is helpful even with children who fight taking their medications. The medicine dispenser should always be pointed at the inside of the child's cheek, while holding it in an upright position. This is very important for their safety and wellbeing. After this, the process should be self-explanatory. 
Hopefully taking meds will be easier for the children when they are a bit older, but for those infant and toddler years in the meantime, there is the Safety 1st Grow-With-Me Medicine Set.