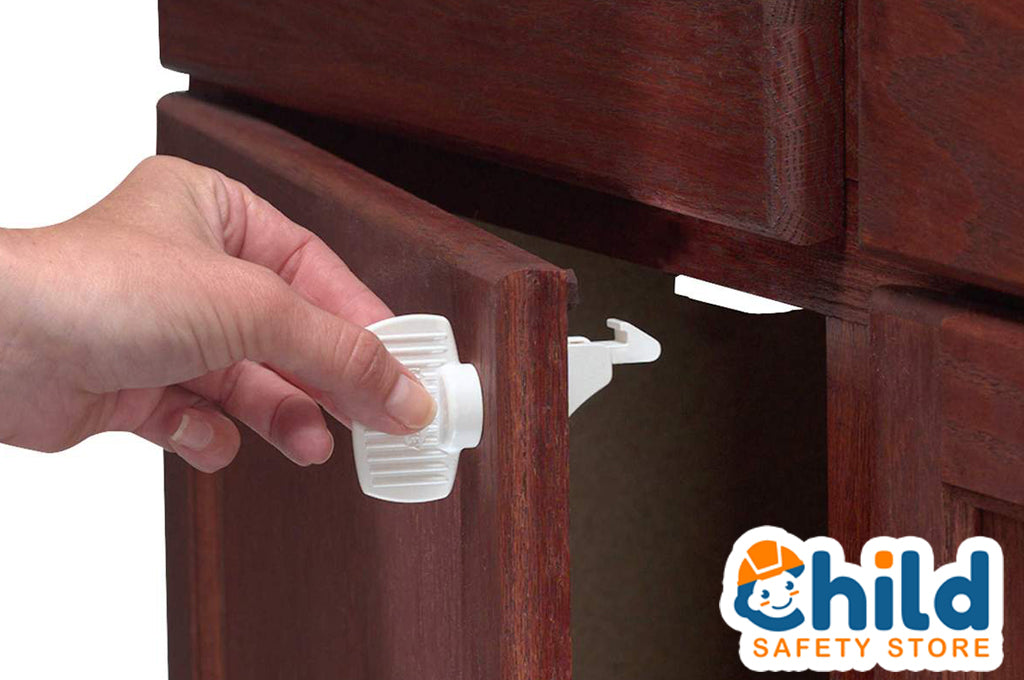 Product Spotlight: KidCo Magnet Lock Set
As we often do on the Child Safety Store blog, let's take a moment to focus on a particular product that can help keep your kids out of harm's way. The items we highlight are always chosen for their utility and popularity. Today's entry is no exception: the KidCo Magnet Lock Set.
Keep Cabinets Locked Up Tight
Kids love to sneak into places where they are not allowed. Their curiosity is all a part of discovering the big wide world in front of them. Unfortunately, this can often get little ones into big trouble.
Take cabinet doors, for example. Whether in the kitchen or the bathroom, cabinets can seem awfully alluring and mysterious to a young mind. This is where so many mysterious bottles and colorful chemicals are kept. If a child drinks any of these, the results can be quite dangerous. It could end up in a rushed trip to the emergency room, or even become fatal.
The solution to this problem is twofold. First, someone should be watching. Active supervision is crucial for keeping kids safe. Next, this is where cabinet locks come in handy. Obviously, no one can stay completely vigilant 24 hours a day, seven days a week. A cabinet lock can offer an extra layer of protection.
Installing a childproofing lock can prevent everything from pinched fingers to potential poison ingestion. Beyond cabinet locks, it may also help to keep any potentially hazardous materials up high and out of reach of children all together. Beyond that, cabinet locks can be a real lifesaver.
To learn about various types of safety devices that you can consider, read our previous blog post about cabinet locks. For today, we'll focus on one of our absolute best sellers: the KidCo Magnet Lock Set. 
Exploring the KidCo Magnet Lock Set (4pk w/key)
Now for the product of the hour: the KidCo Adhesive Magnet Lock set. This handy and versatile setup offers an effective and elegant solution to this potentially serious hazard. As we saw in the previous section, protecting children from getting into cabinets can save a life.
The peace of mind offered by KidCo's Magnetic Lock Set is superb. These cabinet and drawer locks are easy to install. Thanks to the tough adhesive, which is included, you won't need to break out the power tools. There isn't any need for drilling or permanent damage to your furniture. The KidCo magnet lock will remain in place until it is released with the included key.
Speaking of the key, the set includes a key holder that helps to prevent it from accidentally being misplaced. This holder should be installed anywhere your child can't reach. It's an added convenience that can be quite helpful.
When your child grows up, removing the KidCo Magnet Lock Set is simple. When carefully and properly taken off, there should not be any visible holes or damage to the cabinets or drawers.
Product Highlights
Prevents toddlers from opening your cabinets and drawers
The only magnetic lock that can be installed without tools or drilling
Easy to install with tough adhesive
Adhesive mount installation makes it ideal for any surface
Deactivation mechanism turns off the lock for going in and out of cabinets without the key when your children are not around
It fits most cabinet doors and drawers, including framed and frameless styles
Nothing visible on outside of cabinet
Simple, one-hand operation for parents
Made in the USA
Optional screws included for hardware mount installation if needed
To learn more about this device, watch our detailed review in this video: