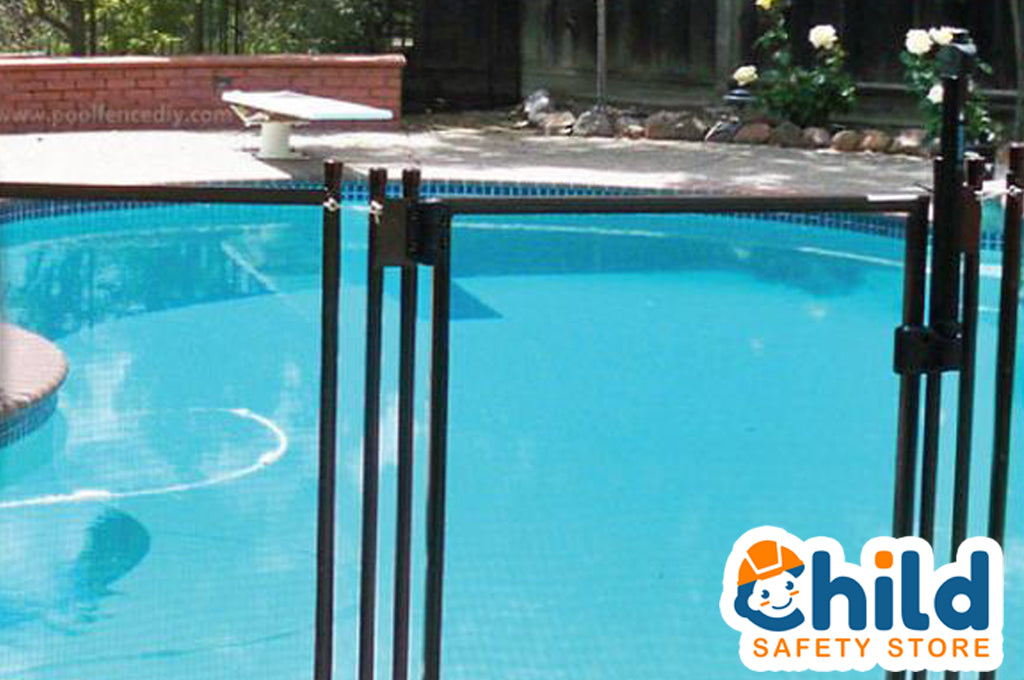 Product Spotlight: DIY Pool Fence Gate
Every once in a while, we like to focus on a particular product available at Child Safety Store. Today, we're talking about the DIY Pool Fence Gate. Though it may seem like an minor addition to your pool area, a quality gate can do wonders for its overall safety.
The Value of Pool Fences and Gates
First and foremost, let's talk about fences. Installing a pool fence is one of the most important choices a person can make for the home. You see, drowning is much more common than most people realize. At an overwhelming level, it's children who suffer here the most. According to the Centers for Disease Control and Prevention, drowning is the leading cause of death among children aged one through four. 
Far too often, children slip away before any adult even realizes they are gone. This is tragic no matter the circumstance. However, 46 percent of time, children who drowned were last seen inside their house. Curious kids will wander off to explore any place that seems interesting. For this reason, parents who can't find their kids should always check the pool first. 
Layers of protection, including a pool fence and strong gate, can help to prevent a tragedy like this from happening. To learn more about pool fences, check out our blog post dedicated to this topic.
Choosing the Right Gate 
Along with choosing a proper pool fence, you will want to select the right gate. That's where the DIY Pool Fence Gate comes in handy. One of the most interesting features it has is the magnetic latch. This helps the gate to close automatically behind you as you enter or exit. This significantly cuts down on the risk of accidentally leaving the pool exposed to curious little ones and pets. For safety's sake, it is recommended that any pool fence gate be both self-closing and self-latching.
Product Spotlight: 4′ Tall – DIY Pool Fence Gate 
This kit, an integral part of any pool fence, features a self-closing, self-latching pool gate that will help make your backyard pool area a safer place for your children. The Pool Fence DIY Gate operates with double-truss uprights, magnetic latch, and self-closing gate hinges. The gate has an adjustable swing for left- or right-handed opening. The product comes with all hardware for installation. This includes a Pool Fence DIY Drill Guide for proper in-ground installation. 
The Pool Fence DIY Gate is four feet tall, which is the height that is recommended by the Consumer Product Safety Commission, and has a two-foot walk-through opening. Its aluminum, powder-coated square stock matches the Life Saver Pool Fence DIY durable mesh fencing. 
Product Highlights:
Easy-to-install, do-it-yourself gate kit for use with the Pool Fence DIY safety system
Helps keep kids safe from accidental falls into your pool
2-foot walk-through opening
Recommend U.S. CPSC height of 4 feet
Ultra-reliable magnetic gate latch and self-closing gate hinges
Bundle package includes drill guide to help with the drilling process for proper in-ground installation
Aluminum, powder-coated square stock; sturdy double-truss uprights; industrial-strength mesh
Backed by a limited lifetime warranty
To learn more about the DIY Pool Fence Gate, take a look at the official product page. In addition to in-home safety products, Child Safety Store offers a wide variety of pool safety accessories.