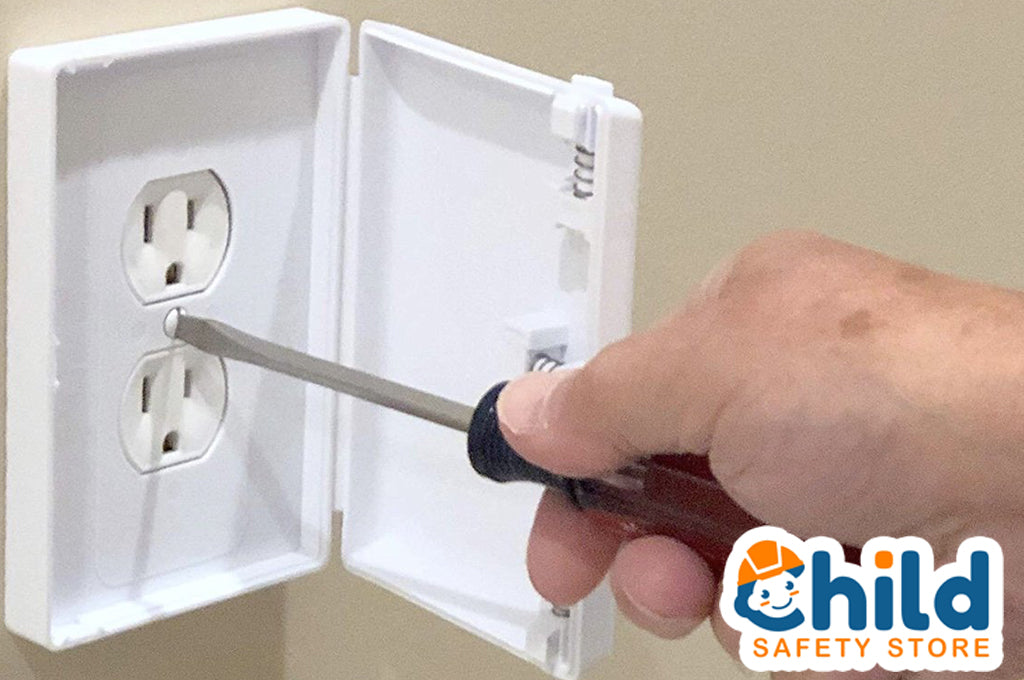 Product Spotlight: Child Be Safe Traditional Electrical Outlet Cover
From time to time, we like to shine a spotlight on some of our favorite baby-proofing products. Today we'll be taking a closer look at the Traditional Electrical Outlet Cover from Child Be Safe.
Why Would Someone Need an Outlet Cover?
Let's face it, kids are curious. That is especially true when they are first learning to crawl and explore their world. Unfortunately, the walls of our homes are littered with highly dangerous electrical outlets that happen to be eye-level with out little crawlers. 
Unless properly protected, an inquisitive tyke can easily stick something metal–or even their fingers–into these exposed dangers. Believe it or not, according to the National Fire Protection Association (NFPA), approximately 2,400 children each year are shocked or severely burned after sticking metal items into outlets. It is estimated that there are six to 12 child fatalities a year related to these occurrences.
For this reason, it is crucial that parents take the proper steps to childproof their electrical outlets. This is a critical step when it comes to the safety of your home. 
Child Be Safe Traditional Electrical Outlet Cover
This hazard is what leads us to today's product spotlight: the Child Be Safe Traditional Electrical Outlet Cover. This product works by restricting a curious child's access to dangerous electrical outlets.
Basically, once this cover is properly installed, it must be opened by a responsible adult. Even your strong-willed toddlers won't be able to break, remove or open this electrical outlet cover. The Child Be Safe Traditional Electrical Outlet Cover replaces your current plate and will fit rectangular outlets and large rectangular switches. 
Product Highlights
 This cover is suitable for all flat modern switches
Easy to install
Designed, manufactured, and assembled entirely in the USA using American-made parts
Sleek and extremely durable 
What's more, it blends into the features with a simple, straightforward design that fits any decor and looks flush on the wall. To see how to install the Child Be Safe Traditional Electrical Outlet Cover, watch this video:
Outlet Covers or Outlet Plugs
Ultimately, the safety of a home is up to the homeowner. Each parent or guardian of a child needs to decide the right solution for their unique situation.
Many people choose to use outlet plugs, which are typically made of plastic and designed to fit into an open outlet. As another option, some specially designed safety outlets automatically close up when they are not in use. You've likely seen both of these products before. In fact, we sell them right here on the store. Don't get us wrong, we aren't promoting any of these products over the other. They all offer their own specific advantages. 
As discussed, on the other hand are outlet covers. For those high-use outlets in your house, Traditional Electrical Outlet Cover from Child Be Safe is a great option. For many folks, they just don't need to replace or plug every possible electrical outlet in their homes. For them, outlet covers are a great fix. They're also inexpensive enough to baby proof every outlet in your house.