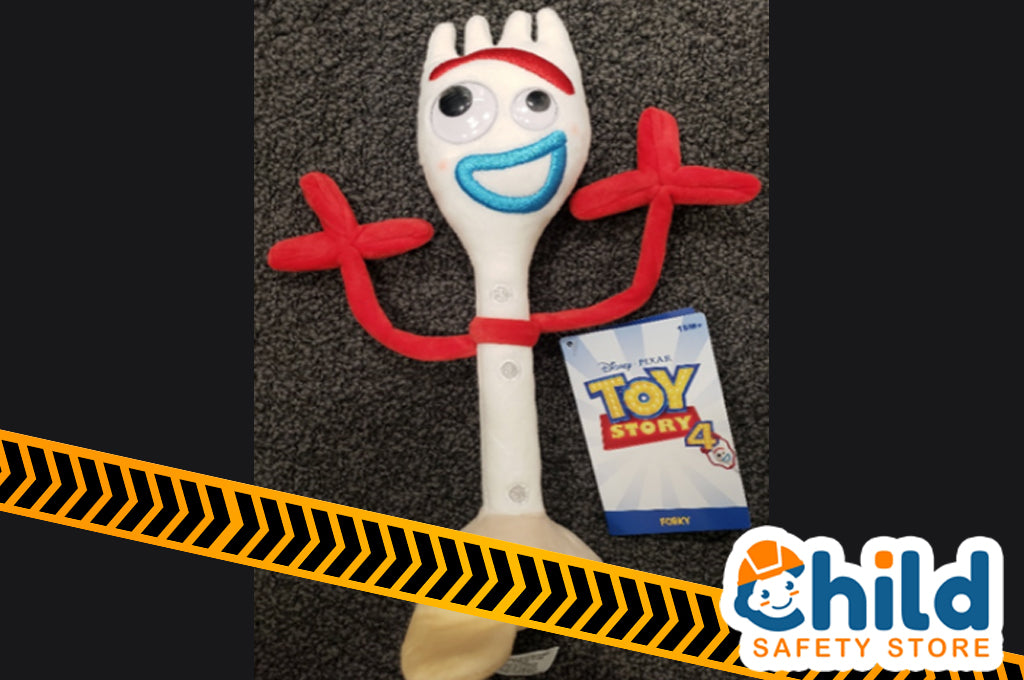 Product Recall Alert: Plush Forky From Toy Story 4
Watch out parents, it's time for another product recall. This one focuses on an 11" "Forky" plush toy from Disney Pixar's Toy Story 4.
As always, we work to boost these product recall stories. To that end, we'll need to tell you about this latest incident, which involves the poor misfit spork-turned-toy from the hit animated film. For fans, this recall should strangely parallel Forky's situation in the movie.
To learn more about the product recall, continue reading.
Why is This Forky Plush Being Recalled?
This week, Disney recalled 80,000 Forky plush dolls. Unfortunately, it seems that the toy's "googly" plastic eyes can come off. In a small child's hands, these eyes can then pose a chocking hazard.
Though there were not any reported injuries, Disney is voluntarily recalling Sporky, according to the US Consumer Product Safety Commission.
The 11-inch $20 toy can be returned to any Disney Store. Once returned, the company will provide a full refund.
Here are the Product Recall Details, according to the CPSC:
Name of product:
Forky 11" Plush Toys
Description:
This recall involves an 11" "Forky" plush toy from Disney Pixar's Toy Story 4. The toy has poseable arms, a base, rainbow screen art on top of foot and plastic rolling "googly" eyes. The eyes are comprised of three parts; a white plastic base, a clear plastic dome and a small black plastic disc within the dome, which represents the character's pupil. The tracking code information is included on the sewn in label attached to the base of the toy. 
Hazard:
The "googly" plastic eyes on the toy can detach, posing a choking hazard to young children. 
Remedy:
Refund
Recall date:
July 8, 2019
Units:
About 80,000 (In addition, about 650 in Canada)
Remedy:
Consumers should immediately take the recalled toy away from children and return it to any Disney Store retail location,Walt Disney World, or Disneyland Resort theme park retail store location for a full refund. 
Incidents/Injuries:
None reported
Sold At:
Disney Stores nationwide, Disney Theme Parks, online at shopdisney.com and through the Disney store on Amazon Marketplace from April 2019 through June 2019 for about $20.
To learn more, visit the CPSC product recall page.
Here is a Photo of the Recalled Product:
At Child Safety Store, we aim to inform parents about any potential dangers in their home. In cases like this one, we try to signal boost official product recalls that may put folks in harm's way.
Many recalls are forced, however just like the last few recalls we've featured, this one was voluntarily conducted by Disney. To Disney's credit, it's good that they are working to correct this misstep and keep children safe.