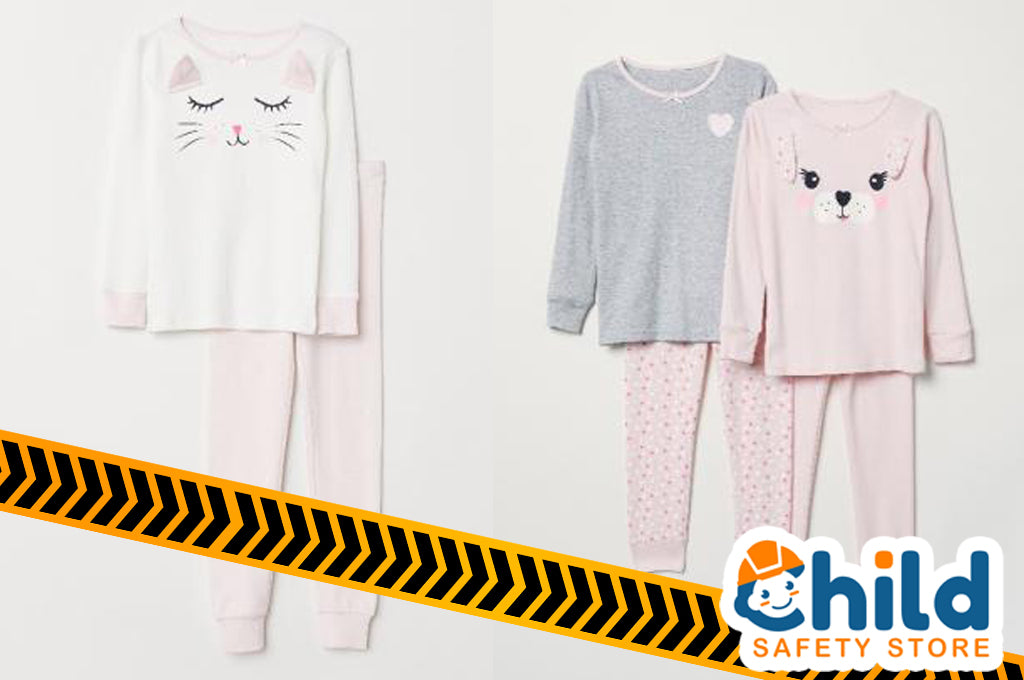 Product Recall: H&M Children's Sleepwear
Children want to wear fun and stylish clothing, however this should never be in lieu of their safety.  At Child Safety Store, we put safety first. This is why we need to bring to your attention two styles of fun but dangerous pajamas recently being sold at H&M stores.  Although no injuries were reported, these pajama sets were recalled for not meeting safety standards.
What H&M Children's Sleepwear Products Were Recalled? 
Two styles of H&M pajamas have been recalled.  Both items are 100 percent cotton knit children's long-sleeved top and pant sets. 
First is a set of two tops – one pink shirt has a screen-printed dog's face with 3d ears extending from it; the other is a gray shirt with a pink bow trimmed neckline and a pink heart on the left chest.  Both tops are being recalled.  The set also comes with long pink polka-dot pants, which are not recalled. This set retailed for $29.99.
The second recalled style is a white long-sleeved top with a screen-printed cat's face and two 3D ears.  This top came with long white polka dot pants however, just like the first pajama style, only the top is being recalled. This set retailed for $14.99.
Both items were sold in sizes two through 10.
Why Were These H&M Pajamas Recalled?
These items are being recalled because they "don't meet the flammability standards for children's sleepwear."  This presents a potential burn injury to the children who are wearing them.
According to the Consumer Product Safety Commission, these flammability standards are meant to protect children from burns. They require that "children's sleepwear must be flame-resistant and must self-extinguish if a flame from a candle, match, lighter or a similar item causes it to catch fire."
What to Do if You Have These Pajamas
Customers who have these sleepwear sets should stop wearing the tops and return them to H&M.  In return, customers will receive a full refund.  On top of that, they will also receive a $20 H&M gift card. Good for H&M – that's going above and beyond!  Customers do not need to return the pajama bottoms, as they are not being recalled.
These are images of the recalled products:
Name of product:
Children's pajamas
Hazard:
The children's pajama sets fail to meet the flammability standard for children's sleepwear, posing a risk of burn injuries to children.
Remedy:
Refund 
Recall Date:
July 25, 2019
Units:
About 9,000
Consumer Contact:
H&M toll-free at 855-466-7467 from 7 a.m. to 12 a.m. CT any day of the week or online at www.hm.com and click on Legal & Privacy and then Recalled Items for more information. 
Recall Details
Description:
This recall involves two styles of children's 100 percent cotton knit, long-sleeve top and pant pajama sets. The pajamas were sold in sizes 2 through 10.
The first style was sold as a set of two pajamas. The recalled tops from this set include: a pink long-sleeve top with a dog's face screen-printed onto the front, and  two extended 3D fabricated ears.  The gray long-sleeve top includes  a pink bow trim located at the neckline, a pink heart screen-printed on the left chest and is paired with long pants (pink and polka dot print.) Both the top with the dog's face and the gray top with the pink bow are being recalled. The product code for this pajama set is 0494860.
The second style was sold as a single set. The recalled top is a white long-sleeve top with a cat's face screen-printed on the front with two extended 3D fabricated ears, paired with long white polka dot pants. Only the top is included in this recall. The product code for this pajama set is 0537645.
The seven-digit product (P/N) number is located on the wash care label inside the garment.
Remedy:
Consumers should immediately stop using the recalled pajama tops and contact H&M for a full refund, plus a $20 gift card.
Sold At:
H&M stores nationwide and online at www.hm.com from July 2018 to May 2019 for between $14.99 and $24.99.
Importer(s):
H&M Hennes & Mauritz L.P., of New York, N.Y.