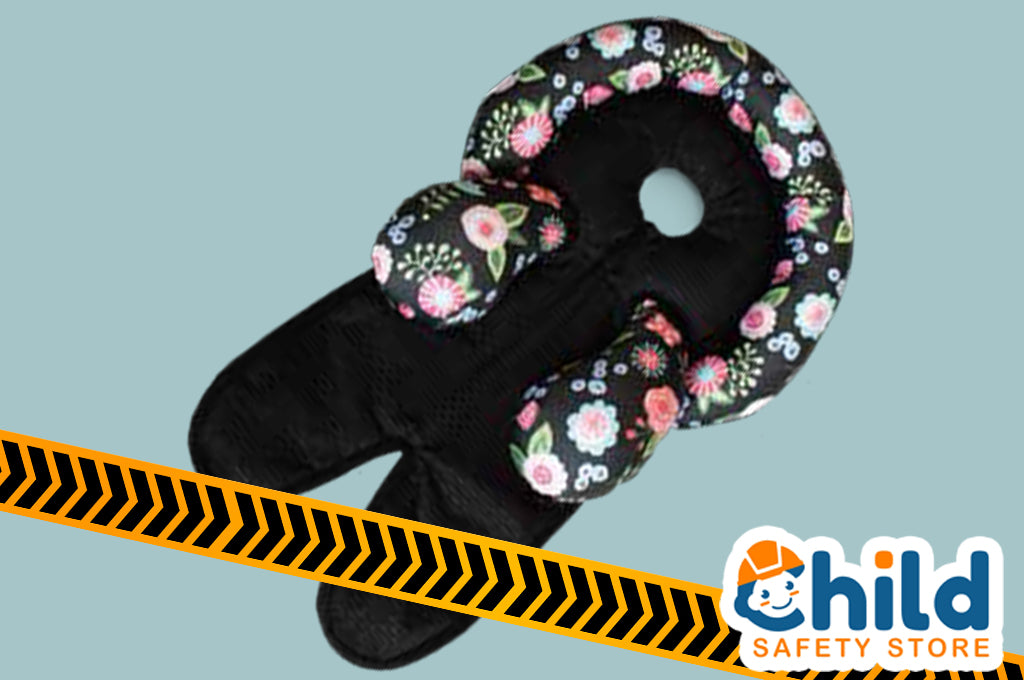 Product Recall Alert: The Boppy Company's Luxe Head and Neck Support
Here at the Child Safety Store, children's safety is of utmost importance. Clearly, this is the case at The Boppy Company as well. The popular baby brand has voluntarily recalled one of their popular products to ensure the safety of its customers. The Boppy® Luxe Head and Neck Support is designed to be placed in products that hold babies and infants, like swings and strollers.
The product carefully cradles the baby's head so that the head is supported. A cushioned removable neck ring provides support for the neck as the child grows.  
Why are the Boppy® Ebony Floral and Heathered Gray Head & Neck Support Products Being Recalled?
Unfortunately, the cushioned neck ring mentioned above is the cause of a recent recall of two particular Boppy® Luxe Head and Neck Support design patterns. Both the Boppy® Ebony Floral Head & Neck Support and the Boppy® Heathered Gray Head & Neck Support are being voluntarily recalled by the company, who is working with the U.S. Consumer Products Safety Commission (CPSC). 
There have been no reported injuries related to these products. However, The Boppy Company is taking a proactive role in its commitment to the safety and quality of their products. See, it appears that the material used in these two items can be overstuffed. Sadly, this could potentially create difficulty breathing when in use. Of course, this creates a suffocation hazard. 
The Company urges customers to return these products for a refund.
These are images of the recalled products:
Here are the Product Recall Details, according to the CPSC: 
Name of product:
Boppy Infant Head and Neck Support Accessories
Hazard:
The head support area can be overstuffed and cause the infant's head to be tilted too far forward, posing a suffocation hazard
Remedy:
Refund 
Recall date:
July 23, 2019
Units:
14,000 
Consumer Contact:
The Boppy Company toll-free at 888-772-6779 from 9 a.m. to 5 p.m. MT Monday through Friday, email at info@boppy.com or online at www.boppy.com.
Recall Details
Description:
This recall involves Boppy Head and Neck support sold in two styles: Ebony Floral and Heathered Gray with model numbers 4150114 and 4150117. The model number is printed on the fabric label on the back of the head support. The product is an accessory to be used in infant swings, bouncers and strollers.
Remedy:
Consumer should immediately stop using the head support and contact The Boppy Company for a full refund.
Incidents/Injuries:
The firm has received three reports of babies' heads being pushed forward chin to chest by the product. No injuries have been reported. 
Sold At:
Target, Buy Buy Baby and other juvenile products and discount furniture stores nationwide and online at Amazon.com from March 2019 through May 2019 for about $20.
At Child Safety Store, we aim to inform parents about any potential dangers in their home. In cases like this one, we try to signal boost official product recalls that may put folks in harm's way. Keep an eye on this blog for further news about potentially dangerous products. 
We applaud The Boppy Company for being getting ahead of this potential health risk in such a proactive way, and recalling these items before anyone gets hurt.