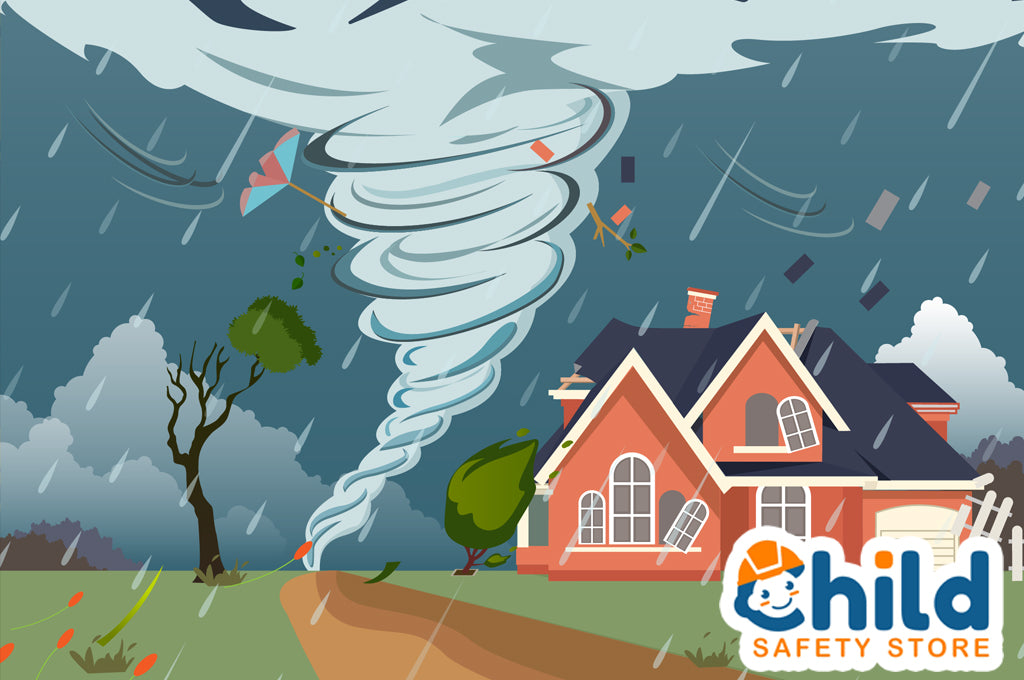 Preparing Kids for a Hurricane
Hurricanes are, unfortunately, one of nature's unpleasant occurrences. If you live in a coastal region of the country, this storm system is something you must be prepared to deal with.  A hurricane's powerful winds can produce flooding, mudslides and even tornadoes, resulting in extensive damage to entire communities.
While this can be scary for any of us, hurricanes can be especially frightening for children. At Child Safety Store, we want to help you protect your children during any threatening situation.  With proper planning, you can prepare your children for a hurricane before it begins.
Preparing Kids for a Hurricane
Hurricanes usually occur in the months between June and November. Now, as this time of the year approaches, is the perfect time to begin preparedness activities.
Helping your child to understand what a hurricane is, and arm them with the knowledge of what to do if one occurs, will help to reduce their stress and fear during an emergency.  Since hurricanes are often spotted before they reach land, you can usually count on a warning in advance.  This should give you ample time to prepare, and involve your kids in the process so that they feel more in control of the situation.
Talk to Your Children
Involve your children in the discussion. Explain to them, in age-appropriate words, what will happen if a hurricane comes. Since children are great at picking up on nonverbal cues from adults, they may end up feeling frightened and insecure during a time of crisis if they aren't properly equipped with information ahead of time.  Talking will help them to understand what is going on once an emergency occurs. 
Have a Plan of Action
Organize a plan of action in case of emergency.  Emphasize that safety and communication are key to the plan's success.  
Decide where you will go if your neighborhood is evacuated. Make arrangements for housing accommodations and keep that emergency contact's information nearby.
Consider all possible scenarios. What will you do if your child is in school when an evacuation is declared? Check with the school or daycare for emergency procedures.
Create an In Case of Emergency card for your child in case you are separated. It should include the child's name, emergency contacts and any vital health information.
Practice Makes Perfect 
Don't wait for a hurricane to arrive. Practice your plan of action ahead of time. Have the whole family run through your evacuation drill from home, school, or anywhere else your child frequents. Consider any obstacles that may cause complications during the storm, such as flooded roads. 
Stay Informed 
Keep up-to-date of the forecast in case of a hurricane alert. In addition, locate designated public shelters. Use the American Red Cross Shelter Finder app or text SHELTER and your zip code to 43362 (4FEMA).
Take Action
Once you receive warning that a hurricane may be on the way, it's time to take action. Pack an emergency bag for every member of the family. It should include enough supplies to last you for at least several days, such as toiletries, some changes of clothes, easy-to-carry nonperishable foods and water, and enough medication to last you a week. These bags are a great way to involve your children and keep them busy. Have them pick out their outfits that will be packed, along with one or two of their favorite toys or games.