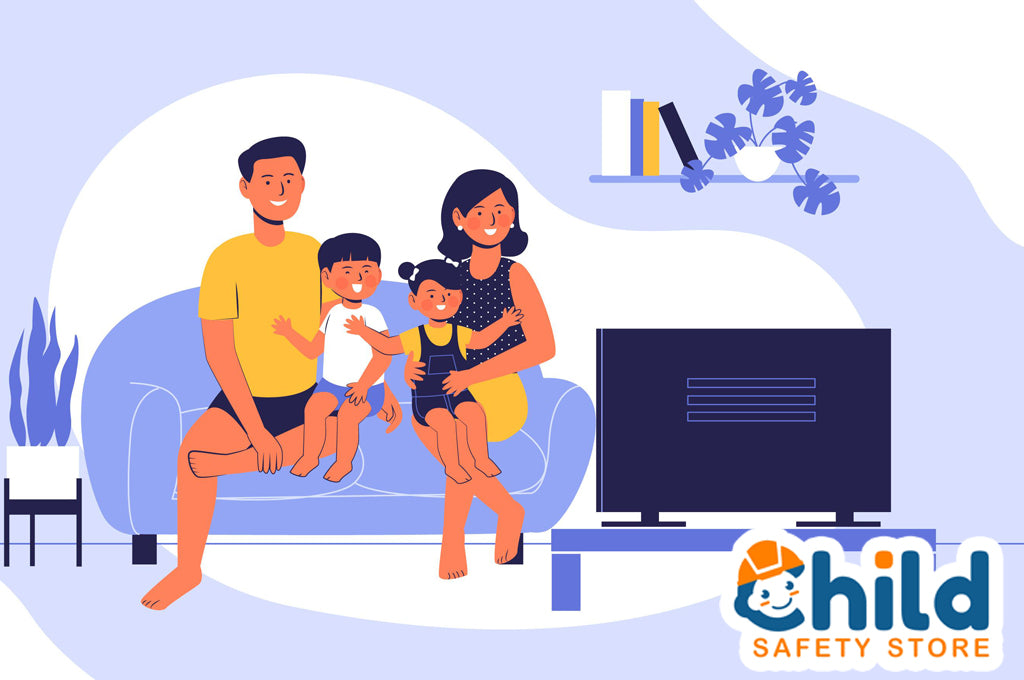 Keeping Kids Safe While Watching TV
Most of us will agree, television is an amazing innovation. This was especially apparent during the past year, when many parents were working from home with their kids. There's no doubt, it's hard to work and watch kids at the same time. That said, let's work on keeping kids safe while watching TV. 
The Dangers of Too Much TV
As we've written in the past, too much screen time can be dangerous. A study in JAMA Pediatrics shows that excessive screen time may effect our children's development. It may not influence behavior directly, but it certainly has an influence.
It's no wonder the same study shows that, over the course of its research from 1994 through 2014, the average daily time that a child aged two years old and under spent in front of a screen has doubled – from 1.32 hours to 3.05 hours. Dozens of studies have presented scientific research about screen time habits and its connection to the wellbeing of children. To say the least, when compared collectively, these studies are inconclusive.
Furthermore, a National Institutes of Health study found that children who spend two hours or more a day in front of a screen got lower scores on thinking and language tests. An abundance of screen time can also result in missed childhood experiences like creative playtime and playing outdoors with friends.
When it comes down to it, studies agree that the less TV the better. That said, TV is inevitable, especially during these isolated times. So now that we've looked at the dangers of screen time, let's talk about keeping kids safe while watching TV.
Keeping Kids Safe While Watching TV
As we mentioned above, there are a number of issues when it comes to television and kids. Here are just a few times you'll want to consider keeping kids safe while watching TV:
Exposure to Violence
Contrary to popular belief, there really isn't a solid link between kids seeing violence and repeating what they saw. That's actually good news. "Monkey see, monkey do" isn't quite as cut and dry as one might expect.
That said, many parents may not want their children exposed to excessive violence anyway. Keeping this in mind, parents should pay attention to what kids are watching and try to contextualize any violence they may see.
Exposure to Sexual Content
Many parents do not want their kids exposed to overtly sexual material. This is understandable. No matter how a guardian feels, it is important to contextualize sexual content. Kids need strong lessons to prepare them for the outside world. In this sense it pays to be present when adult material is being shown.
Unfair or Aggressive Advertising
Finally, let's talk about ads and product placement. When it comes to children's minds, the sky is the limit. That goes double for advertising influence. During most TV shows, kids will be exposed to ads that target their demographic. It's up to parents to cut through the buzz words and flashy products. 
Childhood is an excellent time to learn how to decipher between real products and exaggerations. That said, remember that most kids are bombarded with ads day and night. 
For this reason, the best way of keeping kids safe while watching TV is, again, to watch it with them. This way, parents can see the ads first hand. Active supervision is critical in this situation. 
Being able to see what kids are watching can allow you to explain what they are seeing and help to prepare them for the dangers of the outside world. We wish all parents sincere good luck. Be sure to reach out to us on social media if you have any questions.