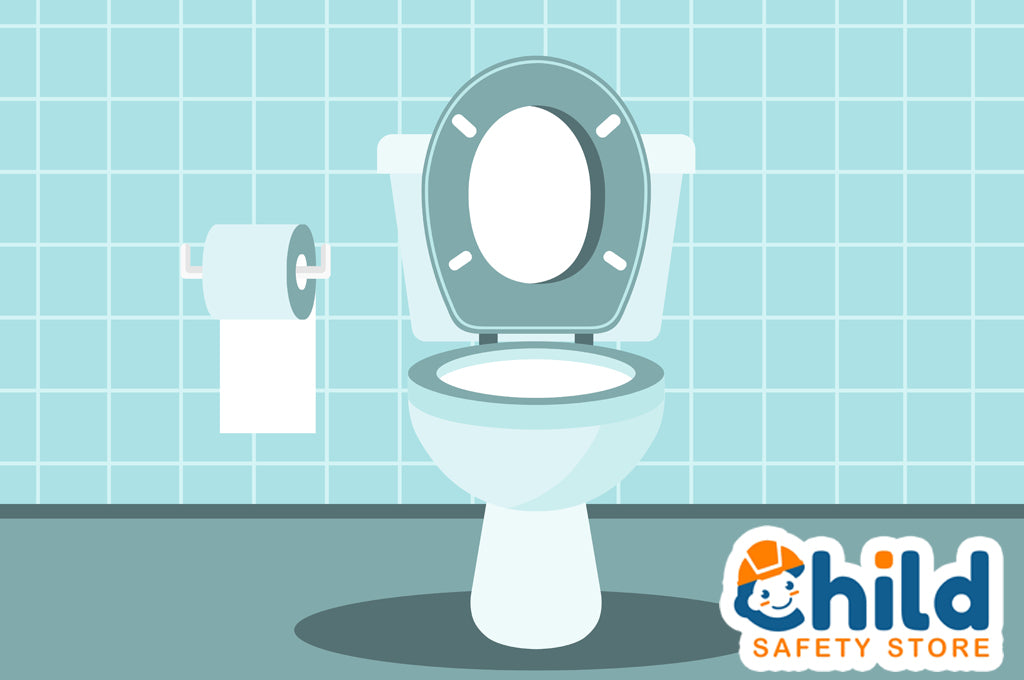 Baby Proof Your Bathroom
The toilet is something we use every day. We don't usually associate it with danger or drowning. However, the bathroom may not be safe for a baby or young child without proper safety precautions. According to recent studies, the toilet bowl is a drowning risk. Curious hands and minds can result in an unexpected injury or even death. 
As our name suggests, safety is our goal at Child Safety Store. We aim to shine a light on everyday dangerous hazards in your home. Today, let's take a look at the bathroom and, in particular, the toilet bowl. We'll go over how to prevent your little one from having access to this unsanitary and potentially dangerous area of your home.
Keep the Bathroom Door Closed
The best way to baby proof the toilet is to prevent access to it.  This means keeping the door to the bathroom shut at all times. Making a habit of this practice may be unrealistic for some people who may be forgetful or have a lot of people in and out of the house. Guests also may not be used to doing this. Therefore, it is possible that your child may still access the bathroom.  In this case, it is best to have the toilet securely closed.
Secure the Toilet Lid 
In case your child does make it passed the closed door, make sure our toilet is securely shut with a toilet lid lock. As you may suspect, these latches keep the lid to the toilet seat shut and in place. Keep in mind that different shaped toilets may require different locks. One great option is the Safety 1st Easy Grip Toilet Lock, as it fits most. Better yet, the flexible strap lock is easy to install with adhesive backing and only requires one hand to be quickly unlocked.
For a quick review of this affordable lock, check this video:
As the video explains, the Easy Grip Toilet Lock can help to prevent your personal items from being dunked in water, having your child venture into unsanitary territory and, worse yet, unexpected drowning. 
While we're discussing the bathroom, here are several other safety measures you can take to keep this room safe:
Never Leave Water in the Bathroom Tub
Remember, kids can drown in just an inch of water. Leaving even a little bit of water sitting in the tub can create a major risk. When you are done taking a shower or bath, drain all of the water. Also, remove any bath toys from the area to prevent kids from reaching for them and falling into the tub. This can cause them to hit their head or drown in any residual water.
Hide Unhygienic Items
Children will reach for anything in their path. Just as you baby proof your living space, the bathroom is no exception. In fact, it's an important area that shouldn't be overlooked. There are many unsavory things a baby can encounter in the bathroom that can cause an accident or injury! 
One dirty culprit? The toilet brush. Think about it: Toilets can be filthy.  Even the ones that you diligently clean on a regular basis. When you do clean them, you use a toilet brush. Then, you usually put the brush near the floor, within reach of your children. Even worse, once the child reaches for it, this bacteria-covered brush may, like everything else, make its way to the child's mouth. The best course of action is to protect the brush with a plastic bag and store it out-of-reach. Other items you may want to keep out of reach from kids include toilet paper, which can be unraveled at a moment's notice, as well as any medicines and cleaning chemicals.
There you have it: some quick tips that can make a big difference in your child's safety. Bathrooms are a necessary room in your home, but it doesn't need to be a dangerous one!