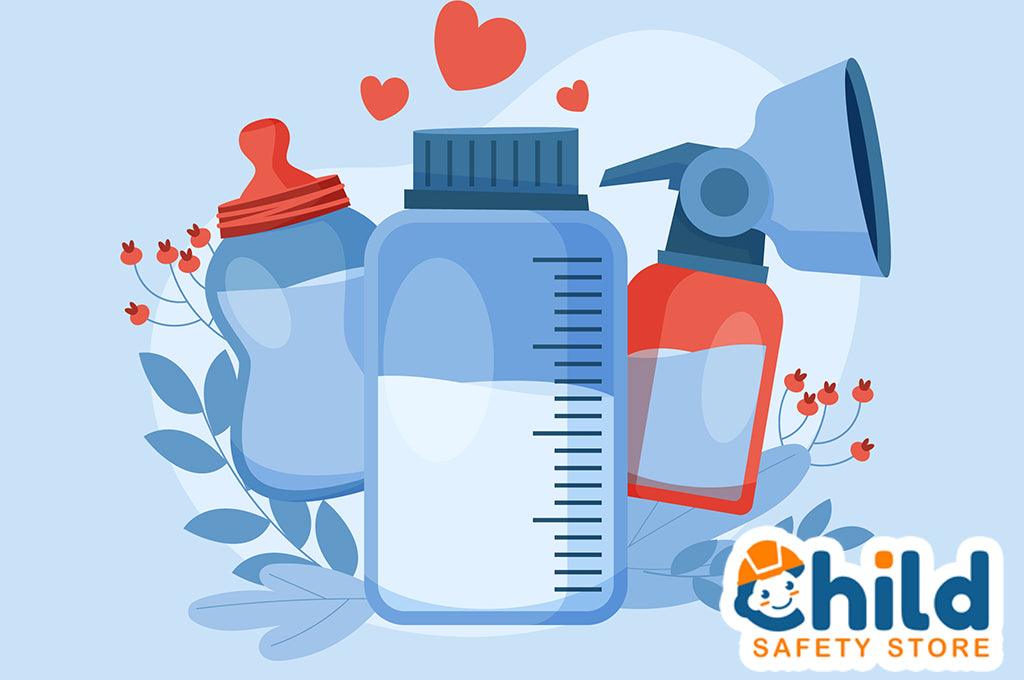 Another Popular Infant Formula Recall
At Child Safety Store, our mission is always to prioritize the safety of our readers and their children. Therefore, we consider it our duty to inform you about any significant product recalls related to your child's health. Today, we have to report on another popular infant formula recall. Issued by its maker, Enfamil, the recall affects 145,000 cans of the formula due to potential bacterial contamination.
It's important for children to have access to safe and uncontaminated food to maintain their health and wellbeing. Previously, our Safety Blog has addressed a similar popular infant formula recall. Additionally, we've shared the updated breastfeeding recommendations from the American Academy of Pediatrics (AAP). In fact, we've also covered some potential dangers of toxic metals found in baby food.
In this case, the recalled product can cause a serious infection in your newborn. Therefore, we urge you to give this warning your full attention and take it seriously. For additional details, please continue reading.
Why is this Enfamil's Popular Infant Formula Being Recalled?
A major manufacturer of infant formula in the United States is voluntarily recalling two batches of its popular Enfamil product due to potential health risks. Reckitt, the responsible company, has revealed that about 145,000 cans of ProSobee Simply Plant-Based Infant Formula are being recalled due to the risk of cross-contamination with Cronobacter sakazakii, a bacteria that can cause rare but serious infections in newborns.
Reckitt has classified this as an "isolated situation," as there have been no reported illnesses and all of the batches have tested negative for the bacteria. Nonetheless, the company is urging consumers who have bought the affected product to either dispose of it or return it to the place of purchase for a full refund. 
What is Cronobacter sakazkii?
Cronobacter is a type of bacteria that has the potential to cause severe and life-threatening infections such as sepsis and meningitis. These infections can result in inflammation of the membranes that protect the brain and spine.
The symptoms may include:
poor feeding,
irritability,
changes in body temperature,
yellowing of the skin and whites of the eyes (jaundice),
grunting breaths,
and abnormal bowel movements.
In addition to causing bowel damage, Cronobacter infections have the ability to spread throughout the bloodstream and affect other parts of the body. 
How to Identify the Recalled Items
If you are a customer who has purchased Enfamil's ProSobee Simply Plant-Based Infant Formula, you can verify whether your cans are part of the two recalled batches (ZL2HZF and ZL2HZZ) by checking the bottom of the can.
The recalled batches will have the number 300871214415 underneath the barcode, along with a use-by date of March 1, 2024. 
In case you have any concerns or queries, Reckitt advises that you should contact either your pediatrician or the company for further information. As we always recommend on this blog, it always pays to talk to a medical professional if you have any questions.
Official Information
Below, read this official information provided by Reckitt, via the FDA's recall page.
Product Type:
Food & Beverages
Infant Formula & Foods
Foodborne Illness
Reason for Announcement:
Potential Cronobacter sakazakii contamination
Company Name: 
Reckitt
Brand Name:
Enfamil ProSobee
Product Description:
Enfamil Prosobee Simply Plant-Based Infant Formula in 12.9 oz containers
Product tested and confirmed negative for contaminants.
No reported adverse consumer reactions to date.
No other ProSobee Simply Plant-Based Infant Formula batches or other Reckitt products are impacted. 
Company Contact Information